Wheatley raises £250m from bond issue for new homes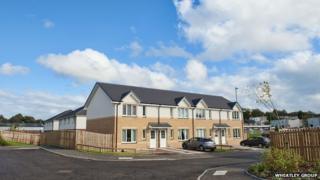 A housing association has raised £250m through a bond issue to help fund 2,800 new affordable homes across central Scotland.
Wheatley Group said it closed the bond offer period early because of high demand.
It is the first time a Scottish housing association has raised cash by issuing a public bond on the capital markets.
Wheatley operates across 12 council areas and owns and manages 72,000 homes.
The group includes Scotland's largest social landlord, Glasgow Housing Association, and the West Lothian Housing Partnership.
Chairman Alastair Dempster said: "The phenomenal success of the Wheatley bond issue will benefit ultimately thousands of tenants and families across central Scotland.
"This is a huge vote of confidence in the critical importance of the social housing sector in Scotland in creating and sustaining strong and vibrant communities."