Energy firm SSE silent over 'failed' back-up power test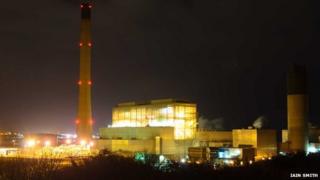 Energy firm SSE has declined to comment on reports that its Peterhead power plant, contracted to help guard against blackouts this winter, failed to generate power during a test run.
The plant is among three UK power stations under contract from National Grid to provide reserve power in case of higher-than-expected demand.
According to Utility Week, Peterhead failed the test run on Thursday.
It reported maximum available output unexpectedly fell to zero in the test.
An SSE spokeswoman told BBC Scotland: "For commercial reasons we are not commenting on the proving run at this stage but we will be issuing a statement later this week."
National Grid also declined to comment on the result of the test.
"We will be discussing the results with SSE and will not be going into details about the test at the moment," a spokeswoman said.
National Grid recently signed reserve contracts with Littlebrook, Rye House and Peterhead power plants to provide 1.1GW of power if needed this winter.
The plants are required to conduct monthly tests as part of the contract.
National Grid has warned that its capacity to supply electricity this winter will be at a seven-year low due to generator closures and breakdowns.
Spare electricity capacity, which ran at about 5% over the winter months last year, would be nearer 4% this year, it said.
Three years ago the margin was 17%.