Top 100 private Scots firms saw 'year of growth'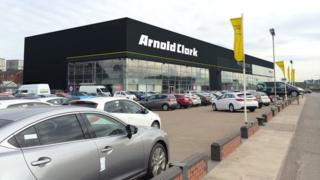 Scotland's leading companies have hired more staff, increased sales and substantially improved profits in the past 12 months, according to a report.
Financial adviser Grant Thornton found the top 100 private firms grew total revenue by 9%, increased staff by 12% and boosted profits by almost a third.
Its review of financial statements showed a combined operating profit of £882m from total revenues of £20.6bn.
The review was compiled using the most recent publicly-available accounts.
The Scotland Ltd report found that 40 of the top 100 limited companies recorded double-digit profit growth in the past year.
Businesses also managed to collectively decrease their long-term debts by 38% in the past 12 months from £2.8bn to £1.7bn, while increasing the levels of cash held by 11% to £1.2bn.
---
Key findings from Scotland Ltd report:
The top 100 private limited companies employed a combined workforce of almost 104,000
Almost 70% have a turnover of more than £100m
There are nine automotive and motor retail businesses in the top 100
Car dealer Arnold Clark recorded the highest turnover of the top 100 businesses at £2.5bn
Of the top 100 firms, 38 are based in Glasgow, 24 in Edinburgh, 11 in Aberdeen, eight in Stirling and six in Inverness
Oil and gas is the fastest growing sector by turnover and has the highest profit margin
---
Kevin Engel, from Grant Thornton, said: "Our analysis highlights a common thread in Scottish industry - resilience.
"The top 100 limited companies may operate across a variety of sectors but they have achieved growth in some of the toughest trading conditions.
"The overall picture is of increased demand, productivity and confidence."
Business Minister Fergus Ewing said: "This survey underlines the confidence that exists amongst Scottish businesses, and builds on recent surveys from the Office for National Statistics and Bank of Scotland which highlight a strengthening labour market and strong economic growth."