Spanish tidal turbine firm Magallanes deploys prototype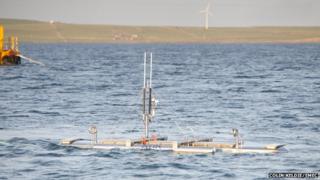 Spanish tidal turbine company Magallanes has announced the successful deployment of a new floating prototype off Orkney.
The 1:10 scale ATIR prototype was installed at the European Marine Energy Centre (EMEC) Shapinsay Sound test site.
Magallanes said it was the first step towards testing a full-scale prototype, which is currently under construction.
The move comes a week after the collapse of wave power firm Pelamis.
The Edinburgh-based company, which had been testing its wave energy converters at EMEC, went into administration after failing to secure enough funding to develop its technology.
Magallanes has been developing its tidal turbine concept since 2007, already having trialled previous prototypes in test tank and river conditions.
Managing director Marquis de Magallanes said: "This test project allows us to demonstrate the integrity and viability of the concept and its subsystems in a real sea climate, and help inform the construction of our 2MW floating platform to ensure a stable and optimal design.
"One of the most important steps was to discover maintenance needs, as well as gaining operational experience at sea."