Statoil awards major oil services deal for Mariner field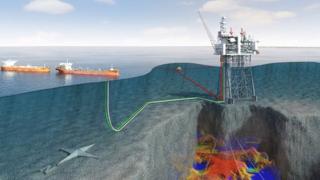 Norwegian oil and gas giant Statoil has awarded a major oilfield services contract for its Mariner development in the North Sea.
The deal will see Schlumberger Oilfield UK use its Aberdeen base to provide most drilling and well services for the project.
The value of the contract, which will start in January and last for four years, was not disclosed.
The Mariner field is about 150km (93 miles) east of Shetland.
According to Statoil, Mariner is the largest field development on the UK Continental Shelf (UKCS) in more than a decade, and will be in production for at least 30 years.
Drilling is planned to start in 2016, with production start-up following in 2017.
More than $7bn (£4.5bn) is being invested in the Mariner development.
'Significant agreement'
Statoil Production UK managing director Gunnar Breivik said: "This is a very significant agreement for the Mariner project, and the result of an innovative, new procurement approach, where the supplier will work as an integrated part of the Statoil team delivering most of the drilling and well services on the Mariner field."
Statoil is the operator of the Mariner field, with 65.11% equity. Co-venturers are JX Nippon Exploration and Production (UK) Ltd (28.89%) and Dyas Mariner Ltd (6%).
The main Mariner platform will have one drilling rig and one well intervention and completion unit.
In addition, a new-build jack-up rig will be located next to the installation.
Up to 130 well targets are planned over the field's lifetime.
The contract with Schlumberger also includes options for Bressay, another Statoil-operated field on the UKCS which is currently in the "concept evaluation" phase.