Scottish car sales hit record high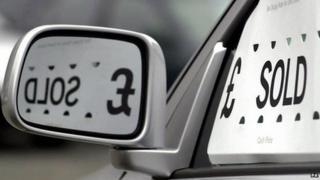 A record number of new cars were sold in Scotland last year, according to industry figures.
A total of 221,570 cars were registered in 2014, beating the previous year's figure by 8.3%.
In December alone, 13,230 units were sold - a year-on-year increase of nearly 27%.
The UK as a whole experienced an increase of nearly 8.7% last month, with a total of 166,198 units registered.
The biggest selling car of the year was the Ford Fiesta, followed closely by the Vauxhall Corsa. The top two sellers in December were the Corsa and the Vauxhall Mokka.
The figures were compiled by the Society of Motor Manufacturers and Traders.
---
Top Scottish sellers in 2014
1. Ford Fiesta 10,714
2. Vauxhall Corsa 10,635
3. Ford Focus 7,676
4. Vauxhall Astra 6,338
5. Renault Clio 5,626
---
Scottish Motor Trade Association (SMTA) chief executive Douglas Robertson said: "We think this is evidence that Scottish consumers and businesses are now more confident about the future economy and it also reflects the fact that consumers have become more aware of the low running costs of a new car.
"SMTA dealers will continue to offer a first class service to the public and look forward to another good year in 2015 with yet more new fuel efficient models coming to the market".