Greenock cruise terminal predicts record year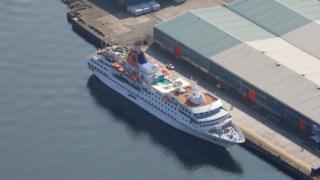 The owners of Greenock's cruise terminal have predicted that this year it will become the first Scottish port to handle 100,000 passengers.
A total of 56 ships are expected to call at Greenock Ocean Terminal in 2015, bringing 108,866 passengers.
Passenger numbers calling at Greenock have more than quadrupled over the past eight years.
In 2007 just 20,253 passengers passed through the port, compared with nearly 92,700 in 2014.
The Peel Ports-owned cruise terminal is expecting visits from giant passenger ships such as The Royal Princess and The Regal Princess.
The Queen Mary II liner will also call at Greenock as part of Cunard's 175th anniversary celebrations.
Andrew Hemphill, general manager for Peel Ports at Greenock Ocean Terminal, said: "Year-on-year we are building the cruise business at Greenock and 2015 will be our best year to date.
"Breaking the 100,000 passenger barrier for the first time is a fantastic achievement and testament to the efforts which have been made to enhance the experience of overseas visitors arriving at Greenock."