Rise in Scottish airport passengers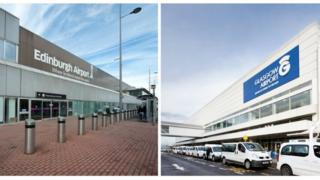 Passenger numbers at Scotland's three biggest airports soared last year, according to new figures.
Edinburgh Airport saw 10.2 million people pass through its terminal last year - a 4% increase on 2013.
Glasgow reported annual numbers of 7.7 million passengers, up 4.8% on the previous year.
And Aberdeen had the busiest year in its history, with more than 3.76 million passengers passing through the terminal.
The Aberdeen figure was an 8% rise on the 3.48 million recorded in 2013.
Aberdeen also experienced a 6.8% year-on-year increase in December to 283,136 due to growth in fixed-wing and helicopter operations.
For Glasgow, the figures marked its busiest year since 2008 and its fourth consecutive year of growth, while the numbers confirmed Edinburgh as the busiest airport in Scotland, and 6th busiest in the UK.
Both airports have attributed the growth to the introduction of new international routes, and increased domestic routes and services.
December was a particularly busy time of year for both Glasgow and Edinburgh.
Glasgow recorded 517,031 passengers travelling through their terminal - an increase of 13.5% - while Edinburgh Airport saw a 7.2% boost, with a total of 691,922 people taking a flight during the final month of last year.
New routes
New routes to Chicago and Philadelphia offered by United Airlines and US Airways, a new service to Doha with Qatar Airways, and the increased frequency of Air Canada Rouge services, have helped Edinburgh up its long-haul traffic by 89.6% compared to 2013.
Domestic traffic was also on the rise, up 3%, thanks to new and increased services to London airports with airlines Ryanair and FlyBe.
Glasgow Airport added 20 new routes and services over the course of last year, while Aer Lingus, Icelandair and Wizz Air brought extra capacity to the airport.
The airport said it expected Ryanair, which began offering flights from Glasgow in October, to bring in an additional 850,000 passengers per year.
---
Comparing the stats
Total passenger numbers in 2014
Edinburgh: 10.2 million (4% increase)
Glasgow: 7.7 million (4.8% increase)
- International traffic
Edinburgh: 4.9% increase
Glasgow: 6.9% increase
- Domestic traffic
Edinburgh: 3% increase
Glasgow: 2.9% increase
---
Amanda MacMillan, managing director of Glasgow Airport, also cited key landmark events of 2014, which attracted high numbers of visitors as contributing to the rise.
She said: "In April we became the first Scottish airport to welcome the A380, in July we marked the completion of a £20m investment programme and we went on to play our part in welcoming the thousands of visitors who descended en masse for the Commonwealth Games and the Ryder Cup.
"With events such as the Turner Prize, the World Gymnastics Championships and the European Judo Championships already confirmed, 2015 promises to be yet another special year for Glasgow."
Gordon Dewar, chief executive of Edinburgh Airport, said: "2014 has been an unprecedented year for Scotland as a whole and we're proud to have played our part in its success.
"We welcomed new airlines and retail partners and opened our brand new terminal extension and security hall, all with the passenger firmly at the centre of our operations.
"2015 will present its own exciting challenges and projects. For us, that means more routes, more investment in our services and welcoming more passengers."