New CBI Scotland director announced as Hugh Aitken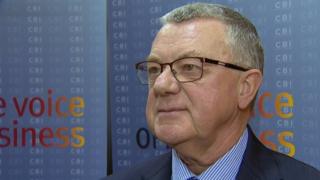 The business lobby group the CBI has appointed a new Scottish director.
Hugh Aitken, whose career has included high profile positions at Microsoft and global software firm Oracle, takes over the role.
The previous director, Iain McMillan, announced his retirement last April.
It followed controversy over the organisation's stance in the independence referendum debate.
The CBI registered with the Electoral Commission as a campaigner against Scottish independence but later reversed that position after seeking legal advice.
Many Scottish universities, several quangos, the Law Society of Scotland, a number of businesses and the broadcaster STV left the organisation as a result of the decision.
The group said at the time there was no link between the referendum issue and Mr McMillan's departure.
Shared aims
Mr Aitken most recently worked for ASCC (Aitken's supply chain consultancy). He was the company's president in California and led work on business process simplification and supply chain optimisation for leading companies, like Hewlett Packard.
Prior to ASCC, he was general manager of Microsoft Nevada and vice-president of worldwide-manufacturing at Oracle.
Between 2000 and 2006, the new director was chairman of the Electronics Scotland lobbying group.
Commenting on his appointment, Mr Aitken said: "I am looking forward to returning to Scotland and using my three decades of broad national and international business experience to help CBI members here and beyond create more jobs and opportunities for growth.
"As I get to know the CBI's varied and vibrant member companies in Scotland and understand the challenges they face, I hope to be able to effectively represent their interests in Holyrood, Westminster and internationally.
"The Scottish government and businesses share many of the same aims, to create a positive business environment in Scotland for the benefit of everyone."
He said he was keen to meet with the first minister and other Scottish political leaders.
"In this election year, there is much to do. Boosting exports and focusing on the core policy issues that underpin economic recovery are the priorities," he added.
John Cridland, CBI director-general, said: "With a new policy landscape emerging in Scotland and with elections on the horizon, Hugh joins at a critical time for the Scottish economy, when businesses will be looking for political stability and certainty from government.
"I look forward to working closely with him to achieve this."