Greene King says 'softer' Scots sales due to new alcohol limit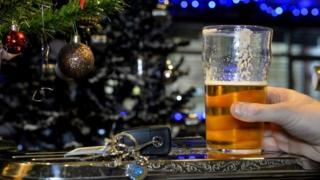 The lower alcohol limit for drivers in Scotland led to "softer" sales over the festive period, a lead pub firm said.
Greene King said sales had been in line with last year across Britain, but they fell in Scotland.
It said this was partly due to the change in the alcohol limit, and also due to poor weather.
UK retail sales, covering licensed outlets also trading 12 months before, were flat for the six weeks to 11 January, but last year saw 5% growth.
Excluding Scotland, however, sales were up 0.6%. That implies a fall in sales at Scottish Greene King pubs of more than 5%.
Reduced limit
Sales for the two weeks of Christmas and New Year were up 2%, whereas 2013-14 saw 6.4% growth.
Among the drinks seeing rapid growth was prosecco, up 78% over Christmas. There was also growth in Christmas Day bookings, with £3.4m takings that day.
One Yorkshire pub - the Farmhouse Inn in Castleford - set a Greene King record by taking £15,500 on the day.
The reduced level of alcohol allowed in the blood for drivers in Scotland, falling from 0.8mg to 0.5mg, was introduced on 5 December.
It was accompanied by a police campaign, through the media, to encourage people not to drink at all if they intend to drive.
There have been reports of increased sales of breath testing kits, and a sharp increase in Scottish sales of non-alcohol beers.
Greene King has 1900 bars, restaurants and hotels throughout the UK which it either operates or leases. Among its own brands, it also makes Belhaven beers at its brewery in East Lothian.