Scotgold boosted by bigger reserves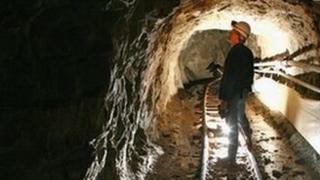 The company mining for gold in the Highlands of Scotland has been boosted by a positive assessment of the potential reserves.
Scotgold Resources saw the share price rise steeply after publication of a new independent report, compiled under an industry code of practice.
It showed a 201% increase in the estimated amount of gold in the mining area near Tyndrum.
The comparison is with a previous study published on 12 November 2012.
The new assessment suggests 248,000 ounces of gold could be found on the basis of rock that has already been assessed at the Cononish site.
The consultants calculate that the quality of that gold is 9% better than previously estimated.
The total number of tonnes that will be required for mining that gold is up by 176% to more than 541,000 tonnes.
The assessment goes further, by estimating the wider mineral resource, beyond the area that's been mined with test bore holes so far.
That suggests there could be 266,000 ounces of gold in 617,000 tonnes of rock, and that the quality of gold in the wider estimate is up by 18% on the previous report on the wider estimates.
Share lift
The gold is understood to be microscopic. The 'electrum' are described as "fine grained and generally less than 100 microns in size. Visible gold up to 2,000 microns is rare," according to the findings.
The publication of the report was followed by a 29% lift in the share price of Scotgold Resources on the London stock exchange.
The company, which is headquartered in Perth, Australia, has struggled with financing, and an extension of its planning permission would help give it time to raise the necessary finance for further surveys and drilling.
The next stage for the company is to assess how best to mine the gold, using three-dimensional computer modelling. The company is also seeking a three-year extension of its planning permission from the Loch Lomond and the Trossachs National Park Authority, which has a special meeting to consider this on 26 January.
Richard Gray, chief executive of Scotgold Resources, the new assessment "is truly a cornerstone for the Cononish project and Scotgold Resources.
"In addition to the significant increase in resource ounces, this work done on the 3D modelling in particular will underpin a more robust optimisation of our mining plan".