Scottish Widows to hire 400 temporary staff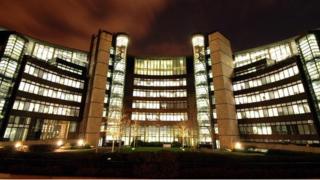 Scottish Widows is hiring about 400 temporary staff to handle customer queries about major changes in private pensions.
The subsidiary of Lloyds Banking Group plans for the vast majority to be located in Edinburgh, although some may be at its call centre in Bristol.
Scottish Widows has faced a sharp increase in inquiries about the implications of looming reforms.
The changes include giving many more options than buying an annuity.
The reforms followed a surprise announcement by George Osborne in the Budget last year, saying that the requirement to use a pension pot to buy an annuity was being removed.
From this April, retirees can withdraw the value of their pension fund in cash, which has tax implications. They can spend the lump sum over time, or invest in other financial products.
Advice guarantee
The UK government wants to see free advice available to retirees. It is paying for the Pensions Advisory Service and Citizens Advice Service to provide that, using the Pensionwise brand.
However, industry leaders have complained that there is still no detail of that advice guarantee.
Preparing for the shake-up of the annuities market has taken up much of the industry's time since the Budget last year.
This follows changes to the financial advice market, and the start of required auto-enrolment of employees into pension schemes.
Scottish Widows chief executive Toby Strauss warned in an article in The Telegraph last September: "In the absence of any breathing space, we have concerns that the industry is in danger of reaching - and in fact breaching - its capacity to cope.
"Many of our own processes have struggled in the wake of the ongoing changes and as a result our service levels are in some areas falling short of the high standards our customers expect of us."
Mr Strauss asked for a stop to new pension laws to allow the industry to develop new processes and systems and employ more staff.
He said then that £20m was being set aside by Scottish Widows to upgrade computer systems, start training programmes and increase call centre staffing.
Scottish Widows is providing information through websites and writing to customers, and other pension providers are also understood to be stepping up their efforts to help people through the choices they face.
'Freedom and responsibility'
Scottish Widows retirement director Stuart Paton Evans said: "The changes coming into effect in April will not only give people the freedom to structure their own retirement, but also the responsibility of making the best decision to suit their own particular circumstances.
"This shouldn't significantly change the retirement plans of the majority of consumers, although it should encourage them to take a realistic look at their finances and think about their retirement expectations and existing financial situation.
"It is important that they also consider the potential tax implications of each option which could change the picture for them considerably."
Meanwhile, there are concerns that the financial services industry may be tempted into further mis-selling of products by failing to give people information, guidance and advice in a clear way that complies with regulators and the law.
A Scottish Widows spokesman said that the 400 recruits being trained to provide an information service will not be able to sell products and that anyone wishing to buy a Lloyds Banking Group product will be required to start the process again with another adviser.
The staff are to be in place for April, and the start of the financial year, when the reforms come into effect.
The spokesman said it was not clear how long the temporary staff would be retained, as it is unclear how much demand for information there will be.