Scottish bankruptcy figures 'at pre-recession levels'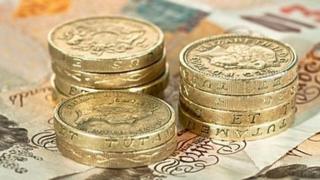 The number of personal bankruptcies in Scotland has fallen to its lowest level for nearly 10 years, according to official figures.
Insolvency statistics for the three months to the end of December showed a total of 2,633 personal insolvencies.
The figures, which include bankruptcies and protected trust deeds (PTDs), were 12% down on the previous quarter and 21.3% lower than the year before.
Scottish businesses also suffered fewer liquidations or receiverships.
Accountant in Bankruptcy said their numbers dropped for a second successive quarter, falling by 7.7%.
Personal bankruptcies in Scotland are now at their lowest level since before the global economic downturn in 2007-2008.
The latest statistics showed debt payment programmes under the Debt Arrangement Scheme (DAS) fell by 5.1% in the latest quarter to just under 1,100.
A total of £9.3m was repaid to creditors over the three-month period - £1.6m more than the same quarter in the previous year.
The combined number of bankruptcies, PTDs and DAS applications approved totalled 3,730 for the quarter - 17.6% lower than the same period of 2013.
Business Minister Fergus Ewing welcomed the latest figures.
He said: "It is extremely encouraging to see personal insolvencies continue to fall year-on-year.
"Fewer companies going to the wall is also welcome news, as this means more businesses are contributing to the Scottish economy and more jobs are being retained."
He added: "There can be no doubt insolvencies falling back to pre-recession levels reflects the improving economic picture in Scotland - but there is no room for complacency.
"The Scottish government has recently introduced Scotland's Financial Health Service, aimed at helping those people with money worries lighten their financial load by signposting them to advice and support from trusted organisations.
"I believe this pioneering initiative will play a major role in shaping the future of debt advice in Scotland, ensuring the right information is always available at the right time."
'Danger of complacency'
Keith Anderson, insolvency partner at accountancy firm Baker Tilly, said: "The fact that personal insolvencies are at a 10-year low in Scotland is due in part to the record low interest rates that we are continuing to enjoy, but we are also seeing that creditors are increasingly engaging with debtors to accept informal payment plans over formal insolvency processes.
'However, there is a danger that Scottish consumers could become complacent as figures released by the British Banker's Association yesterday show that the annual growth rate in unsecured lending has reached a six-year high.
"People need to be wary of over-extending themselves, or this could come back to haunt them when interest rates do eventually start to rise.'