Lord Gill proposes court for renewable energy disputes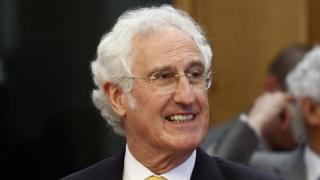 A new court could be established to handle disputes arising from renewable energy and shale gas extraction.
Scotland's most senior judge said it could be "a court of international renown."
Lord Gill said he is determined to avoid the mistakes made when the oil and gas industry was being established.
He said in the 1960s and 70s the opportunity for Scotland to become an international forum for resolving disputes in the industry was lost.
He told a conference in Glasgow that international litigation is now heard abroad, including in courts in Houston in Texas.
He said the Scots legal system should be a driver for economic progress, and that could happen if Scotland became a forum of litigation that retains cases that currently go elsewhere and also became a forum of choice for cases from abroad.
'Complacency'
"We paid a price for complacency when the international oil and gas industry passed us by," the Lord President said.
"In recent years a commitment to renewable energy has brought wind power to the fore as an energy source. Other forms of renewable energy may follow.
"Our resources of energy may be increased by the retrieval of shale gas, if that should be allowed.
"It seems to me therefore that the opportunity that our natural resources present should be served by the court system."
Feasibility study
A feasibility study is to be launched into the creation of an Energy and Natural Resources Court.
Although this would be part of the Court of Session, which sits in Edinburgh, the new body could also sit in Aberdeen or Glasgow as necessary.
"We have the courts. We have the manpower. We have the skills of our judges and of our lawyers," Lord Gill said.
"My ambition is that we should create a court of international renown that will make its own contribution to Scotland's prosperity."