Uneven gains from lower pump prices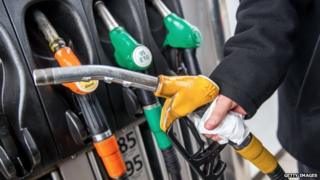 We all know that oil-users win from the price of Brent crude falling below $50, and that oil-producers lose.
Those with an eye to climate change would like to remind you that we all lose, longer term.
But did you know that it is better-off male drivers from the East Midlands who are among the biggest winners?
Yes, the re-ordering of the global economy with cheaper oil is not just about Russia's currency crisis and budget crunches from Riyadh to Caracas.
As north-east Scotland is finding, it's about re-ordering within countries. The Federal Reserve Bank of Dallas has found that oil at $55 means 125,000 job cuts in Texas, feeding through to supply chains for the industry across the state that pumps 40% of US oil.
And commentary by Heartwood Investment Management recalls that a halving of the oil price in 1986 had a slow burn effect too: property prices fell, leading to many American lenders, known as Savings and Loans, going bust two to three years later.
However, it emphasises the more positive message that the overall effect of the price cut is a stimulus to the US economy on a par with anything the federal government has provided in recent years.
Debt-laden
There's a re-ordering of companies too. The Financial Times has been analysing how companies weathered previous oil price falls, and what lessons can be learned for $50 oil now.
Its conclusion is that the UK offshore sector is not well-placed for continued low prices. As we've noted before, production has fallen, costs have risen, and so has tax.
It also found too many oil companies are carrying a lot of debt. They tended to cut return on capital to fall sharply. Profitability was sacrificed over recent years, to take advantage of $100-plus oil.
Some are now exposed. The worst positioned are debt-laden oilfield services companies.
Norway's Subsea 7, which is a player in the UK North Sea, is mentioned unfavourably by the FT. Likewise, the more exposed drilling companies could include Enquest, based between London and Aberdeen.
There are corporate gainers too. Those with less debt, strong assets and vertical integration should be able to find some good deals as others shed untapped assets, and we can expect a wave of consolidation.
"Adrenaline shot"
A separate analysis of the British economy is in line with Heartwood Investment's take on the US, saying the cut in fuel costs is like a 1.3p cut in the 20p basic rate of income tax.
That allows people to spend more, save more, drive more, or pay off debt, and in total, people will probably be doing a bit of all four.
"This is an adrenaline shot delivered straight to the heart of the UK economy - the Great British consumer," is how Hargreaves Lansdowne analyst Laith Khalaf dramatically puts it.
The total saving is estimated at £5.3bn, or £146 per motorist. That assumes prices staying at current levels for the rest of this year. And it's ten times more than the gas price savings being passed on by the Big Six energy utilities.
But the windfall of lower fuel prices falls unevenly. It's one of those tax cuts, like a freeze on council tax, that benefits those who pay the most in the first place.
So Hargreaves Lansdowne has been calculating who benefits most from lower prices at the petrol pump forecourt.
East Mids Mondeo Man
The average male motorist stands to save £175 a year compared to £114 for female motorists.
This is because the average male motorist drives 6,866 miles a year, compared to the woman's 4,476 miles.
The highest-earning households stand to do four times better out of this than the lowest earners. In numbers, that means the top one-fifth see £329 falling off their average household petrol and diesel costs, while the bottom fifth see a £77 household saving.
Nor is the distribution even across the country. Londoners gain least, because they drive less. A lot less. The average Londoner does only 1,430 miles in a car each year, less than half of the mileage in any other nation or region of the UK.
That means that same average Londoner saves a very modest £36 from the lower forecourt prices, removing £306m from the city's annual fuel bill.
Up the M1, the average East Midlands driver has the highest mileage in Britain, at 4,155 miles. The saving per person (not per motorist, you'll note, as the regional breakdown is based on a different set of figures) is £106. In Wales and the East of England, they save an average £103.
In Scotland, according to Hargreaves Lansdowne, the average distance travelled is 3,603 miles per year, saving the average person £92, and the whole country £488m.
That's a little something which helps you if you're turning up the heating as a snow storm sweeps in from the Atlantic. But it isn't enough to buy a set of winter tyres.