Profits and sales down at Scots spirits firm Diageo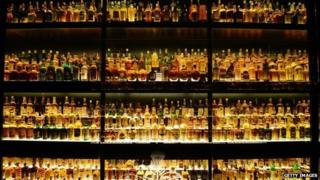 The world's biggest distiller of Scotch whisky has reported a sharp fall in sales in some of its key markets.
Diageo said profits in the second half of last year fell by 18% to £1.7bn, while overall sales were down 1%.
In China, the company said sales of Scotch were down 22% as part of a government crackdown on extravagance.
Trading conditions in parts of Europe and Russia were also described as "tough", although the company said there was an "improving trend".
Diageo makes Johnnie Walker whisky, Smirnoff vodka and Guinness, as well as a number of malts.
Alongside the setbacks in China and Europe, the firm was also affected by lower than expected sales over Thanksgiving in the United States, foreign exchange rates and an economic slowdown in Brazil.
Overall, Diageo said net sales in the six months to 31 December were £5.9bn, below analysts' average estimate of £6bn.
Diageo Europe president John Kennedy admitted sales had been "muted", particularly due to the slowdown in emerging markets, but insisted "the trend is improving".
'Long term trends'
Mr Kennedy said whisky was at the core of the company's portfolio.
He added: "Sales are up 10% in the last six months, and if you look at the long term trends we do think there are four to five hundred million people who will go into what we call the higher net worth category, where these kind of brands become accessible.
"Therefore, it's a great short term result and we think it will continue for the long term."
Diageo has been criticised following reports that some of its suppliers may have to wait three months before they are paid.
Mr Kennedy said: "Just to be clear, we're not mandating anyone does anything and we're not changing any of our current contracts with our suppliers.
"With all of our relationships we're looking at a wide variety of things - price, payment terms, services, and sustainability - to create a situation where we get what we need from a supplier and they see us as a good customer of theirs.
"It's in our DNA to have a great relationship with our partners."