Scotch's emerging and disappearing markets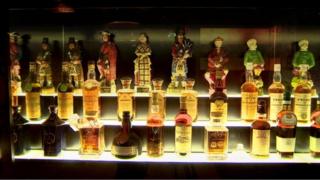 If Scotch whisky is as important as its industry body was saying this week, then we all ought to worry about the scale of problems facing Diageo in some of its export markets.
The Scotch Whisky Association trumpeted a new economic assessment, nearing the £5bn mark in value to the economy.
At £3.3bn, its direct economic impact is up 21% in six years.
That's largely because the industry has skilfully tapped into aspirational middle class markets in emerging economies.
The consultancy report showed how much of the £1.8bn supply chain is in Britain - 90% in the UK, 70% in Scotland.
With a view to UK budget decisions on tax, the industry is telling us it's bigger than iron and steel, shipbuilding, textiles and computing.
And its workforce is more "efficient" than aerospace, life sciences and the digital sector.
So Scotch has a mighty impressive story to tell, and it's continuing to invest in a big way.
But that efficiency is because it can be made without much brawn or brainpower. Fewer than 11,000 people are employed directly. The industry is not saying these are particularly valuable or high-paid jobs, though they are important to some rural communities.
Instead, the benefits of those export sales are felt more in the national accounts and by shareholders in the big distillers, with 80% of production headquartered outside Scotland.
Rouble trouble
The brainpower that has helped the growth of Scotch whisky is in marketing. And it's now facing some big challenges if it's to return to the kind of growth that will justify the current investment surge in distilling capacity.
Next month, we'll get the full-year export figures for 2014. But an indication of the difficulties in export markets is to be found some way down the interim figures out this week from Diageo, covering the second half of last year.
For the world's biggest spirits company, Scotch represents 26% of its business, while Diageo represents about 40% of Scotch whisky.
And these latest sales figures look a bit grim. The total sales volume is down 5% (remember that's the bit that links to the jobs in Scotland). The value of sales is down 6%.
But the alarming number for Diageo is that the reported fall is 20% on the second half of 2013.
Much of that is due to weakening currencies in export markets, led by Venezuela, Russia and the eurozone. That factor alone hit total Diageo reported sales by £120m and profits by £85m.
Up Mexico way
Behind that volatility were troubled economies. Venezuela took to Scotch in a big way in the good times. But sales volumes dropped 40% in July-December.
Scotch was also going strong in Brazil, but along with Uruguay and Paraguay, there was an 11% drop in Johnnie Walker sales as competitors dropped prices. That was offset by a rise in lesser Diageo brands Old Parr and White Horse.
Then again, Old Parr's total exports were down 11%, and its post-currency exchange value down by 43%.
Colombia and Mexico looked better for Diageo whisky, helped by a marketing push.
Further north, Johnnie Walker was down 17% in the US market - the world's most valuable - showing that the previous year's sales push was not sustained. However, Buchanan's is a brand that sells well to Hispanic drinkers, who boosted its sales by a third in the US.
Scotch was down 17% in Russia, where it is Diageo's big seller. In Poland, Johnnie Walker was down 24% on the year before, partly because stock had been built up in 2013, ahead of a tax hike.
Even in the German economy, Scotch net sales were down 11%. But in France, which is the biggest importer by volume, drinkers have been moving to premium brands and single malts, so there was some growth in value. And in the UK, a marketing push behind Johnnie Walker Black Label saw sales rise 8%.
Anti-extravagance
With India's huge domestic whisky market still shielded by 150% tariffs on imported spirits, it's China that has had a lot of attention from Diageo in recent years.
But changes to that market - government disapproval of extravagance and executive gifts, as well as traditional bars closing down - have put a big dent in those hopes.
The half-year figures show net Chinese sales down a whopping 22%. And while Diageo is among the distillers trying to move consumers onto premium brands, that isn't working so well there.
That's why there's a big pull-back in marketing spend in China, and a push into Africa, where there's a happier story for the company to tell, notably in Angola and South Africa.
In such emerging markets, the demographic and economic growth trends still point strongly in the direction of Diageo's and Scotch whisky's export strategy.
With Diageo now having a secure foothold in the Indian market - taking control of the biggest distiller, its domestic brands include 'Bagpiper' whisky - that is a big prize for the real Scotch McCoy to break through.
But we're learning that there are going to be significant setbacks along the way.