Cider maker Thistly Cross secures Asda supermarket deal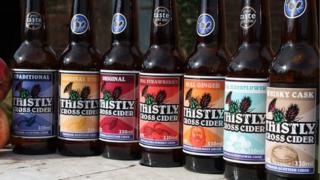 Cider maker Thistly Cross has secured its first major deal with supermarket giant Asda.
Asda will stock five varieties of the Dunbar-based company's products in 56 Scottish stores from this month, in a deal worth £150,000.
They include the Thistly Cross original, traditional, real strawberry, real ginger and whisky cask lines.
The company, which employs 14 staff at its East Lothian site, produces a range of premium farmhouse ciders.
Thistly Cross director Julia Rennie said: "We are delighted to have secured our first listing with Asda.
"Our cider is made in Scotland from the finest quality fruits, so it's great to see that Asda is continuing to invest in providing a range of products full of Scottish provenance and taste."
Scottish suppliers
The Thistly Cross contract is the latest in a series of recent supermarket deals involving Scottish suppliers.
Montrose-based fruit and vegetable grower and distributor Stirfresh secured a £250,000 contract to supply Aldi's 58 Scottish stores.
Under the deal, Stirfresh will stock Aldi's shelves with its fresh soup mix and fresh vegetable medley.
Earlier this week, Morrisons said Stirlingshire-based Graham's The Family Dairy would be supplying milk and butter products to its stores throughout Scotland from March.
Graham's managing director Robert Graham said: "Graham's The Family Dairy works in partnership with more than 90 farmers so our extended relationship with Morrisons guarantees that more consumers have access to milk and butter products from Scotland."
Morrisons managing director for Scotland, David Gardner, added: "We believe Graham's Dairy can provide a great alternative offer for our Scottish customers.
"With the Scottish dairy industry facing challenging times, this is great news for the sector and reaffirms our support for Scottish food and drink."