Scottish house sales hit six-year high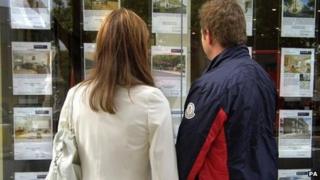 Scotland last year recorded the highest number of house sales since 2008, according to figures released by Registers of Scotland (RoS).
A total of 93,875 sales took place across the country in 2014 - an increase of 11.6% on the previous year.
The overall value of sales for the year exceeded £15.3bn.
The RoS report also found that the average price of a residential property rose last year by 4.3%, to stand at £163,563.
Registers of Scotland director of commercial services Kenny Crawford said: "The total value of the residential property market continues to make a significant contribution to the Scottish economy.
"In 2014, the market totalled £15.4bn, an increase of 16.4% on the previous year.
"The City of Edinburgh property market represented over 16.3% of this figure, sitting at £2.5bn.
"This is significantly larger than the next biggest property market, Glasgow, with 8.9% of the market at £1.4bn."
Sales growth
The Moray local authority area experienced the largest annual growth in sales, with a 24.4% increase.
The City of Edinburgh continued to attract the largest volume of sales, achieving 11,092 - up by 13.7% on 2013.
Aberdeen City and Dumfries and Galloway both recorded a fall in the number of sales - down 4% and 2.4% respectively.
The local authority area with the highest average price was East Renfrewshire, where the average price for the year was £228,963, an increase of 5.6% on 2013.
Aberdeenshire and the City of Edinburgh recorded averages of £226,919 and £226,551 - increases of 4.9% and 5.2% respectively.
Renfrewshire saw the largest percentage increase over the year, climbing by 11.8% to £129,075.
By contrast, Midlothian saw a 2.1% fall in average price to £173,855, while prices in South Ayrshire declined by 1.6% to £146,823.
The RoS statistics cover all residential sales between £20,000 and £1m, including those that did not involve a mortgage.