Price of rural land in Scotland 'rises sharply'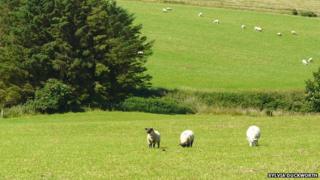 The price of rural land in Scotland has risen sharply but still lags well behind the UK average, according to a report.
The Royal Institute of Chartered Surveyors (Rics) estimated the average price per acre in Scotland was £4,375 last year.
The figure was 17% up on 2013 but 47% below the UK figure for 2014.
The Rics survey also found that the price of pasture land was at least 40% cheaper than any other part of the UK.
According to surveyors, average arable land rents in Scotland remained relatively flat in the second half of 2014. At £85 per acre, it lagged behind the national average of £158 per acre.
Rics Scotland director Sarah Speirs said the increase in demand from "lifestyle" buyers that had been evident in recent years continued throughout 2014, adding to price pressures.
She added: "Although there are a number of potential issues on the horizon which may have an impact on confidence, including land reform and the implementation of CAP (Common Agricultural Policy) review, surveyors remain optimistic that prices across Scotland will continue to rise over the next 12 months."