Glasgow 2014 Commonwealth Games '£35m under budget'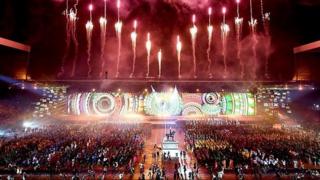 The Commonwealth Games in Glasgow last year was delivered £35.5m under budget, according to the latest estimate.
Lord Smith of Kelvin, chairman of Games organiser Glasgow 2014, said the figure was the amount of "previously committed public funds" that were not required.
The final budget position will not be finalised until the closing accounts are published later this year.
The total Games budget was £575.6m. This figure included £472.3m for Glasgow 2014 and £90m for security.
The Glasgow 2014 budget of £472.3m was made up of £372m of public money with the remainder coming from commercial income generated through sponsorship, ticket sales, broadcasting rights and merchandise sales.
The budget included contingency of £66.1m, which was made up of a £42.3m general contingency and £23.8m special reserve.
'Strong position'
At the end of last year, Glasgow 2014 said the projected under spend was about £25m, meaning the special reserve fund was not required.
Lord Smith of Kelvin said the latest forecast had seen this projected under spend rise by more than £10m.
He added: "I'm delighted that Glasgow 2014 Ltd looks set to finish in such a strong and healthy final budgetary position with more than £35m of previously committed public funds having not been required.
"Through all our work as an organising committee - and working closely with our Games partners - the team at Glasgow 2014 has focused on achieving excellence and also value in everything we've done.
"It's also been very important to us that we have gone about our work in a responsible and sustainable way - with good governance and strong budgetary controls being central to our mission."
Sport Minister Jamie Hepburn added: "As well as being a huge sporting triumph, the Glasgow 2014 Commonwealth Games were a good model of planning and effective financial management.
"From the outset we worked closely with the organising committee and other key partners to make sure the Games were delivered within budget.
"Our focus now shifts to continuing to secure the lasting legacy from the Games so that generations to come benefit from the public investment made."