Scottish economic output 'hit by severe weather'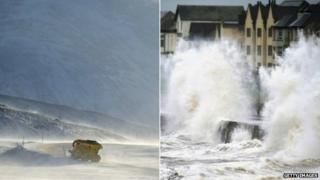 Scotland's private sector output has contracted for the first time in more than two years, according to a report.
Bank of Scotland said severe weather "weighed" on business activity last month, contributing to stagnations in new business and employment.
Both manufacturers and services firms reported falls in output.
The bank's Purchasing Managers' Index (PMI) for January stood at 47.7 - its first sub-50 reading since September 2012.
Any reading below 50 suggests contraction.
Its survey of company-purchasing managers suggested the level of new business placed at firms was broadly stable in January, following 25 consecutive months of growth.
Manufacturers recorded an outright fall in new orders, despite seeing export sales rise solidly for the first time in seven months.
Employment at Scottish firms also held steady during the opening month of the year. That compared with robust growth in staffing levels throughout 2014.
A slight net gain in payroll numbers in the service sector "negated" lower employment at factories.
January's survey showed a slight fall in the amount of business outstanding at companies in Scotland, reversing the marginal growth in backlogs of work seen one month earlier.
Inflationary pressures continued to weaken at the start of the year, while businesses faced the slowest rise in average input costs since May 2009. Lower fuel prices partly offset growth in staff salaries and wages.
'Sharp jolt'
Bank of Scotland chief economist Donald MacRae, said: "Business activity in the private sector of the Scottish economy fell in January, affected by severe weather.
"Activity dropped in both the manufacturing and services sectors but levels of employment and new business were maintained.
"New export orders showed an encouraging increase.
"The first month of 2015 has given the recovery in the Scottish economy a sharp, weather-related jolt reminiscent of the bad weather effect of four years ago."
A separate survey conducted by business advisers BDO has suggested Scottish businesses are "unruffled" by the prospect of the upcoming general election in May.
BDO's Business Trends report found business optimism and output still remained high.
Companies' hiring intentions also remained positive.
BDO said confidence was particularly evident in the manufacturing sector which, responding positively to low input prices, maintained "a balmy economic outlook".