Planned tax reforms boosting housing market, say surveyors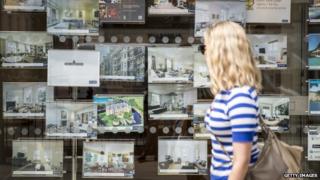 Planned property tax reforms are already providing a boost to Scotland's housing market, according to a report.
The Royal Institution of Chartered Surveyors (Rics) said Scotland and Northern Ireland's markets outperformed the rest of the UK in January.
Both areas had more buyer inquiries, stronger price growth and a more confident outlook.
Some surveyors found buyers were being encouraged by changes to stamp duty and a planned new property tax in Scotland.
The new Land and Buildings Transaction Tax (LBTT) is due to come into effect north of the border in April.
Rics' latest UK residential market survey indicated that Scotland had the most buyer interest in January while, on a national level, the number of potential new inquiries fell for the seventh consecutive month.
Northern Ireland's housing market witnessed the strongest price momentum for the fifth consecutive month, with 47% more respondents reporting increases in prices.
National results
Scotland followed close behind with a net balance of +38%.
However the national results, which are based on England and Wales only, continued to signal a cooling market.
Within England, London market conditions continued to deteriorate with surveyors reporting that prices, buyer inquiries and sales were falling.
Rics Scotland director Sarah Speirs said: "The changes to stamp duty and pending introduction of LBTT in Scotland are, to varying degrees, providing an incentive to first-time buyers, but there remain a number of challenges to market, such as ongoing affordability constraints, lack of stock and an air of caution in the run-up to the general election.
"Overall, while the Rics' lead indicators suggest the level of housebuilding looks set to increase over the course of 2015, the volume of home starts will still fall considerably short of the number of new households being formed, let alone making a dent in the historic shortfall of housing across all tenures."