KCA Deutag says 230 North Sea jobs 'at risk'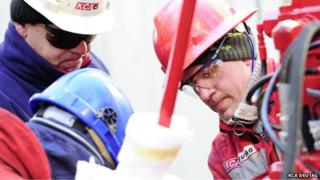 Drilling and engineering contractor KCA Deutag has announced proposals to cut up to 500 jobs worldwide, including 230 North Sea posts.
The move follows a review of the company's operations in the face of a declining oil price.
A total of 200 offshore North Sea jobs are at risk, after two unnamed clients announced they were pausing drilling operations.
A further 30 support posts in Aberdeen are also under threat.
KCA Deutag is the latest North Sea operator to announce job losses.
Last week, Weatherford International confirmed it would making job cuts at its Aberdeen operation in response to falling oil prices.
BP and Talisman Sinopec are among other oil companies to announce job losses in recent weeks.
'Reducing cost base'
In addition to post reductions, KCA Deutag is also proposing to cut staff salaries by 5% to "maintain competitiveness while protecting as many jobs as possible".
The company said it was reducing its cost base in order to "align with expected drilling activity".
However, it added that it remained committed to Aberdeen and would relocate its two offices in the Altens area to a business park in the city next year.
Chief executive Norrie McKay said: "KCA Deutag continued its growth in 2014 and maintaining this forward momentum will be challenging in 2015 in this new oil price environment.
"As a result we commenced the review of our operations to reduce our cost base in line with expected levels of drilling activity.
"We have proposed a 5% reduction in staff salaries to enable us to retain as many talented people in our business as possible to ensure we are well placed when market conditions improve.
"Our priority has been to minimise additional job losses.
"There will be some roles at risk of redundancy, but where we can redeploy staff we will."