Forestry firm Scottish Woodlands reports record sales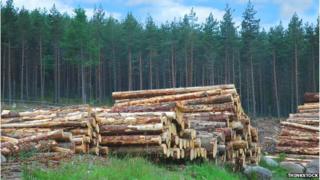 Forest management company Scottish Woodlands has posted a record turnover, lifted by strong demand for domestically-grown timber.
The Edinburgh-based firm saw sales rise by nearly 15% to £73.8m for the year to the end of September.
Net retained profit climbed from £560,000 to £1.1m.
The company, which is 80% employee-owned, is now harvesting more than one million tonnes of timber a year on behalf of its clients.
Scottish Woodlands said demand for forestry investments remained high over the year, while utilities and landscaping activity also increased.
Managing director Colin Mann said the company's growth reflected the success of the forestry sector, which is currently benefiting from strong supplies of timber.
He added: "The forestry and wood sector in Scotland is delivering a powerful combination of sustainable economic growth and significant environmental benefits."
Scottish Woodlands has 14 offices across Scotland, from Strathpeffer in the north to Castle Douglas in the south.
It also has offices at Alnwick, Chirk and Ballymena to serve clients in Northern England, Wales and Ireland.
It is estimated the forestry industry supports 40,000 jobs in Scotland and delivers £1.7bn in added value to Scotland's economy each year.