Skyscanner reports strong growth in 'transformational year'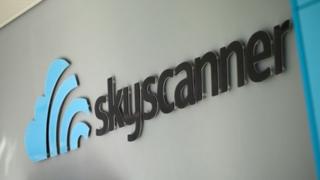 Fast-growing travel search provider Skyscanner has reported another sharp rise in revenues, boosted by growing numbers of website visitors and app users.
The Edinburgh-based firm increased sales last year by 42% to £93m, with pre-tax profits standing at £20m.
The business said more than 35 million people worldwide now used Skyscanner each month to plan their travel.
Skyscanner described 2014 as "a transformational year".
The company has diversified in the past 12 months away from flights to travel.
It has launched hotel and car hire apps and established Skyscanner for Business, which provides data-led tools to the travel industry.
As a result, the non-flights' contribution to overall revenues increased by 47% in 2014.
The company said mobile growth continued to be key to the company's strategy.
It has also been focusing on China, after acquiring Chinese metasearch company Youbibi.
Over 2014, there was a 61% increase in unique monthly visitors from China and a 162% increase in mobile visitors.
Last year, the company also bought Hungarian mobile app development company Distinction in an effort to fast-track growth of its in-house mobile team.
'Transformational year'
Skyscanner chief financial officer Shane Corstorphine said: "It has been a transformational year for Skyscanner and we've seen record numbers of people using our website and apps.
"These additional visitors are the result of an increase in our market share within existing markets, which is pleasing to see.
"Our primary focus for the year has been investing for future growth, and this approach has been making an impact for us sooner than anticipated.
"While our revenues continue to be led primarily by flights, the addition of new hotel and car hire products, as well as the creation of our Skyscanner for Business team, has had a key role to play in our growth, which we anticipate will increase over the next year.
"We also escalated our product development in China, and our mobile development capabilities globally through the acquisitions of Youbibi and Distinction."