Wood Group warns of further cuts over low oil price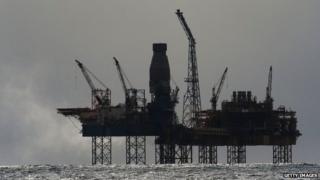 Oilfield services company Wood Group has warned it will have to cut costs in response to low oil prices.
The Aberdeen-based firm announced a rise in pre-tax profit on its operations in 2014, up 11% from $374m to $415m (£243m to £270m).
With the market radically changed, it said 2015 would "demonstrate resilience in a challenging market".
That includes a cut in its costs of $30m (£19.5m), and a focus in helping clients become more efficient.
In December, Wood Group announced a freeze on staff salaries and a cut in contractor payment rates.
It explained its plans for this year in a separate statement which said: "We are committed to making sustained cost savings.
"The measures we are taking include tightening spending controls, reducing discretionary spend, and, to a lesser extent, deferring activities.
"We are also looking at opportunities to create greater synergy across the business and moving to shared services, starting with human resources in the UK and finance in North America."
'Steep decline'
In total, Wood Group's revenue rose 8% to $7.616bn (£4.95bn).
With operations in 50 countries, the strongest performing part of the business was in production services, known as Wood Group PSN.
It saw earnings before tax and interest rise by 30%, driven by last year's performance in US shale and growth in its North Sea business.
It was also successful in renewing contracts in the UK North Sea, and acquired the Swaggart business in the US. About 40% of its activities were in the Americas.
Less successful were the engineering division and the unit providing turbines to the energy and power station sectors.
Ian Marchant, the new chairman of Wood Group, said the results were in line with expectations "against a backdrop of a steep decline in oil prices towards the end of the year".
He said: "In line with our focus on customer efficiency, we are also implementing internal cost and efficiency measures to ensure we remain competitive."
Share price
The company emphasised to shareholders that it balances operational and capital expenditure, and it is diversified in long-term contracts as well as its range of customers and where it operates.
Reviewing 2014, the oil services giant said 70% of its growth was from organic growth of existing business, and the rest from acquisitions of other companies.
Wood Group operates through more than 2,000 contracts, and says that collaboration within the business was crucial to winning contracts in Malaysia, Saudi Arabia and Angola.
Its share price was trading up 12% at 705p following publication of the full-year figures and outlook statement.
This follows a drop from 818p last June, as low as 527p a month ago.
That may reflect a new strategy on dividends, raising them 25% this year.