Bad weather hits Scottish high street sales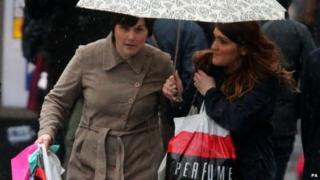 Scottish retailers saw sales fall in January, with poor weather pushing shoppers online, a new report has suggested.
Total sales dropped by 2.3% compared with the same month last year, the Scottish Retail Sales Monitor showed.
Like-for-like sales, which strip out factors such as new store openings, decreased 3.1%.
Retail experts said the drop could be attributed to January being Scotland's fourth wettest since 1910.
Food was the best-performing category during the month but sales were still down 1.4% on the same period last year, according to figures from the Scottish Retail Consortium (SRC) and KPMG.
Sales of non-food items dropped 3% on the previous year.
Adjusted for the estimated effect of online sales, total non-food sales decreased by 1.1%.
Inclement weather
David McCorquodale, head of retail at KPMG, said: "Whilst the decline may be partly explained by more inclement weather this year and January being a strong month for sales last year, it is clear that the considerable saving felt by consumers in petrol and fuel bills is not finding its way to the high street's tills.
"The grocery sector was the best performer in Scotland: while sales are still declining, there is evidence that the rate of decline has reversed.
"It may be some time till we herald growth again in this competitive market, which is also buffeted by price deflation, but the grocers will take heart that the worst may be in the past."
SRC director David Lonsdale said: "The total value of Scottish retail sales slipped back last month, however this needs to be seen in the context of a bumper performance in the corresponding period last year.
"While sales of food edged down, it was nonetheless the best-performing category - for the first time in four months - and recorded its best performance since last June.
"Non-food related sales eased back after a stellar performance in the same period in 2014, making for a pretty flat past quarter in the category once inflation is taken into account.
"Looking forward, retailers will be heartened by the Bank of England's predictions of continued low inflation being outstripped by average pay rises."