Scottish Power pre-tax profits rise four-fold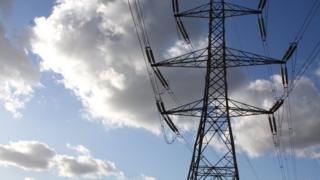 Scottish Power has seen a four-fold boost to its pre-tax profits from generating electricity and supplying customers during last year.
Its Spanish parent company, Iberdrola, said the figure rose from 37m euros (£27m) to 156m euros (£114m).
Much of the increase was due to lower wholesale energy costs.
The rise also reflected a low figure last year due to accounting provisions, while 7% of the improvement was because the euro weakened against sterling.
Along with the publication, Scottish Power announced it was cutting its online fixed price contract by an average £12 to £918. This compares with £1070 a year ago.
The company last month announced a 4.8% cut in standard gas tariff from 20 February.
Customer numbers
At the end of December, Scottish Power supplied electricity to 3.3 million customers, down from 3.5 million the year before, and gas is supplied to 2.2 million customers, down from 2.3 million.
Its generating division saw an improved performance due to the lower price for coal being burned at the Longannet power station in Fife, along with investment in boilers leading to more efficient operation.
Cockenzie coal-burning power station in East Lothian was closed down, helping cut the cost of carbon tax.
The company reported that profitability on its gas-powered stations remained "extremely low".
The measure of profit which Iberdrola prefers to cite saw less impressive growth. Earnings before interest, tax, depreciation and amortisation (EBITDA) on generation and supply was up from 320m euros (£272m) to 457m (£368m).
The networks part of Scottish Power saw pre-tax profit rise from 516m euros (379m) in 2013 to 613m euros (£451m).
Pre-tax profits on the renewable energy division were down from 106m euros (£78m) to 80m (£59m), however the EBITDA measurement was up from 232m (£171m) to 265m euros (£195m).
Government auctions
The company is awaiting the outcome of the UK government's auctions for the new renewable energy subsidy regime, known as Contracts for Difference. This is due to take place next week.
Scottish Power hopes to win a contract for support in building a vast 1200MW wind array off the East Anglia coast.
Investment in the UK this year is expected to be a record £1.3bn, most of that going into upgrades of power transmission and distribution networks in Scotland, north-west England and north Wales.
Iberdrola produces more than three times more power in Spain than in the UK, and twice as much in the USA, while it is also a significant investor in South America.
Its total profits were up 3% to 6.965bn euros (£5.119m), with expectation that earnings will be higher this year. Net profit fell, largely due to major changes to Spanish regulation of the energy sector.
Market investigation
The results were released on the day that early evidence from a competition inquiry suggested dual-fuel customers of the big energy firms had missed big savings by not switching suppliers.
The Competition and Markets Authority (CMA) has been investigating the energy market since last summer.
It said that from 2012 to 2014, more than 95% of dual-fuel customers of the big firms would have have saved money by switching tariffs or suppliers.
The savings they missed ranged from £158 to £234 a year per customer.