Centrica 'rebase' threat of early gasfield shutdowns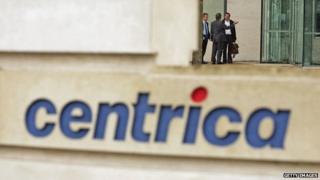 "Rebasing": it's one way of debasing the English language. And if you're one of 650,000 Centrica shareholders, it's what's happening to your dividend. That is: a 30% cut.
And that helps explain the 8% drop in share price.
On the same basis, the parent company to Scottish Gas and British Gas is "rebasing" its costs and carrying out a wide-ranging strategic review.
It's the response of chief executive Iain Conn to a grim set of accounts for 2014, in which an operating statutory profit of £1.89bn in 2013 turned into a loss of £1.13bn.
A great deal seems to have gone wrong in one year, bringing to mind one strategy for incoming chief executives - throw the kitchen sink at your early accounts, so that subsequent years look a whole lot better.
Too mild, too cold
Last Updated at 20 Feb 2018, 16:30 GMT
*Chart shows local time
price
change
%
130.75 p

+

+2.05

+

+1.59
Three large gas power stations were put on the market, but the offers were so low, they weren't sold. Two are now being closed. Both gas and nuclear asset valuations are being cut. (Or rebased?)
Gas storage is high in volume, but with profitability way down.
A nuclear power plant had to be shut down last year for technical problems, and it's still on restricted output.
Transition to a new billing system has gone wrong, and isn't yet sorted. Customer numbers dropped 2%.
Mild weather in Britain meant 20% less demand for gas and 8% less for electricity. Yet extreme cold weather in the US (remember the polar vortex?) also cost it dear in the damaged network.
However, the biggest problem was in upstream activities - where Centrica Energy produces gas and some oil. Headquartered in Aberdeen, it's a significant operator in the North Sea, with assets overseas too.
With its 2014 results, profit on gas production was down 48%. The company has announced a 40% cut in upstream investment over two years - falling from more than £1bn to around £650m next year.
Much of the cut is not in UK waters, but onshore in Canada, where it's easier to switch off the investment tap.
Centrica says it wants to cut oil and gas production costs by £100m, or 10%. That's in addition to other cost-cutting across the business. It's planning on the lower oil price to remain until at least 2017.
The company's energy producing division is taking a hit to its asset valuation of £1.19bn. After tax, more than a third of that will be in its gas fields in the waters off Trinidad and Tobago. Those assets are up for sale.
With output forecast to fall from 80 million barrels of oil or its gas equivalent to 75 million barrels, one of the explanations of an 18% cut in proven reserves is ominous for the North Sea.
It "reflects a reduction in reserve expectations from some UK fields, with updated production flow data as well as the lower price environment making a number of future developments uneconomic and leading to an earlier forecast cessation of production on some assets".
The early closure of uneconomic older fields has been predicted. Few companies have been as blunt about it actually happening. And much of Centrica's portfolio is in the older, depleting gas fields of the southern North Sea.
So when Centrica says it's carrying out a wide-ranging review of outlook and sources of growth, portfolio mix and capital intensity, and operating capability and efficiency, then the upstream division looks particularly vulnerable.
Getting rid of it looks all the more likely if you track what Centrica has already been doing, selling off a share in Canadian assets to Qatari investors.
This portfolio was built up by Centrica to secure supplies for its customers, which looked a priority when reliance on Russian oil supplies made gas prices spike. Gas sourcing is now more diverse.
But regulatory and political pressure has meant that the advantages to that sort of integration are diluted.
Retail supplies now have to be accounted for separately. And the market review that's under way could force companies to split retail from their wholesale supply divisions.
We'll find out more when Centrica's review concludes in July.