Weir Group shares slump after revenue warning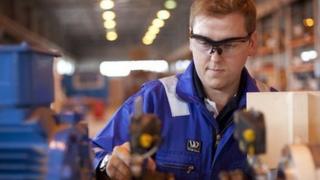 Engineering giant Weir Group's share price slumped after the company warned that the recent fall in oil prices would hit revenues in 2015.
The Glasgow-based company, which makes valves and pumps for the energy and mining industries, was the biggest faller in the FTSE 100.
Shares were down by more than 10% in early trading.
Weir's full-year results showed pre-tax profits fell by 2% to £409m, while operating margins were also down.
The company's revenue was nearly flat at £2.44bn.
Chief executive Keith Cochrane said cost-cutting measures by the company would only partly offset the impact of substantially lower demand.
The slump in demand will be due to many oil and gas exploration, production and services companies slashing capital spending in response to lower oil prices.
Weir said in November that it planned to close five small manufacturing plants, cut jobs and consolidate service centres in 2015 to reduce costs.
Company outlook
Mr Cochrane said: "In terms of outlook for 2015, we will continue to make progress in delivering our strategy while responding to market conditions as they evolve.
"The group has already acted following steep price declines in key commodities, particularly oil, taking additional measures to reduce operating costs."
He added: "While visibility in oil and gas remains limited, it is clear that the group's strategic progress and cost initiatives will only partly offset the impact of a substantial reduction in demand and the associated pricing pressure.
"As a result we are planning for a significant reduction in constant currency group revenues and lower operating margins in 2015.
"However, we will continue to invest in extending the group's global leadership positions and increasing market share, supported by a strong balance sheet and the cash generative nature of the Group."