Talks with George Osborne encourage offshore leaders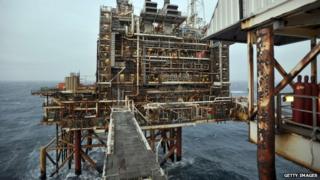 Leaders from the offshore oil and gas industry said they were ''encouraged'' after meeting Chancellor George Osborne to discuss the sector's future.
Mr Osborne said the significant fall in the oil price had been a challenge to the industry but a benefit to the British economy.
Oil and gas companies believe tax cuts are needed to save jobs.
Malcolm Webb, of industry body Oil and Gas UK, said: "We did come away encouraged."
From 2010 until mid-2014, world oil prices had been fairly stable, at about $110 a barrel.
Since June, however, prices fell below $50 and have recently been trading at around $60.
Mr Osborne will deliver his pre-election budget on 18 March, when he is widely expected to announce a change in the tax regime for the North Sea.
Chief executive Mr Webb said: "We had a good meeting.
"Of course the Chancellor did not tell us what measures he would announce on 18 March, but we did come away encouraged by his well-informed understanding of the situation."