Online boost for packaging firm Macfarlane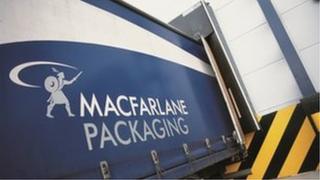 Internet shopping continued to help packaging firm Macfarlane increase profits and sales last year.
Pre-tax profits for the Glasgow-based group rose 19% to £5.6m while turnover was up 7% to £154m.
The company said it had "particular success in the expanding internet retail sector" while its labels division suffered from weakness elsewhere.
Macfarlane said its figures reflected some earlier acquisitions.
The company said it expected to "succeed through its own actions coupled with improved market conditions in 2015".
Chairman Graeme Bissett said the results marked a "fifth consecutive year of profit growth for Macfarlane Group".
He added: "The focus of our packaging distribution business on the opportunities in internet retail, third-party logistics and national accounts is producing good results for the group.
"The acquisitions of Lane Packaging and Network Packaging have performed strongly and have been earnings-enhancing in 2014 and I look forward to seeing their full-year contributions feed through in 2015."
Mr Bissett said the company was "committed to seeking out further profitable expansion opportunities through carefully selected acquisitions".