Optos agrees £259m takeover by Nikon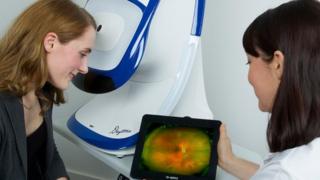 Fife-based eye specialist Optos has agreed to be taken over by the Japanese group Nikon Corporation, in a deal which values the company at £259m.
Optos sells eye testing machines which can detect high blood pressure and some cancers.
The Dunfermline-based firm described the deal as "fair and reasonable" and said it would help transform it into a "global medical business".
The deal is subject to shareholder approval.
However Optos' directors say they intend to recommend unanimously that shareholders vote in favour of the deal.
The offer of 340 pence a share is a 30.5% premium on Thursday's closing price.
Nikon, which is nearly 100 years old, is best known for its cameras. This deal signals a move into the medical sector, which the company said was important for its long-term growth.
Medical business
Kazuo Ushida, the president of Nikon, said: "I am pleased to announce this strategically important transaction for Optos and Nikon.
"I am confident that an Optos/Nikon combination would create a world class 'retina' player and would significantly benefit our respective stakeholders.
"Together, we will pursue various collaboration opportunities and further expand the medical business in the future."
Optos chairman Dr Peter Fellner said: "Following the transaction, Optos will become a key part of Nikon's future strategy to develop a global medical business and will continue to provide its market-leading solutions to the patients we serve.
"We are therefore pleased to recommend this acquisition to our shareholders."