Air tax cut 'could boost Scots economy by £1bn'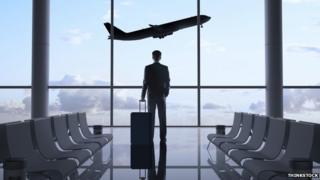 Slashing the tax paid by air travellers could boost Scotland's economy by £1bn by 2020 and create almost 4,000 new jobs, a report has suggested.
The figures emerged from research carried out on behalf of Edinburgh Airport.
The report looked at the impact of cutting air passenger duty (APD) by 50%.
Powers over APD are to be devolved to Holyrood following recommendations by the Smith Commission.
However, a specific date has yet to be set as the move requires UK legislation to be passed.
The new research, conducted by consultants York Aviation, suggested a 50% reduction in APD "might support around 3,800 additional jobs and £200m per annum in GVA (gross value added) by 2020".
It also found that Scottish airports could lose out on nearly one million passengers a year if APD is not cut by at least 50%.
Such a cut, it argued, would result in 700,000 more passengers coming through Scotland's airports in the first year, rising to about 900,000 after five years.
Air Passenger Duty facts
Air passenger duty is charged on all passenger flights from UK airports. The rate of tax varies according to where the passenger is going, and the class of travel.
The tax raised £2.9bn in 2013-14, with about £200m coming from Scotland.
APD rates on direct long haul flights from Northern Ireland were devolved to the Northern Ireland Assembly (NIA) in 2012, which then set the rates at £0.
The Republic of Ireland scrapped its equivalent of the tax in 2013, meaning the UK is one of five European countries to levy a tax on passenger departure.
Edinburgh Airport chief executive Gordon Dewar said: "We've long argued that APD is a tax on Scotland's ability to compete with European airports of our size and our economy is footing the bill in lost jobs and lost opportunities.
"Our report shows that the economic benefit of a reduction will outweigh any lost tax revenues.
"It's therefore reasonable for passengers, airlines and the tourism industry to have some certainty on when this regressive tax will be reduced, and to know whether it will eventually be scrapped."
The Scottish government welcomed the report, which it said showed "the clear benefits" of devolving power over APD to Holyrood.
A spokeswoman said: "This is something we have long called for and a move that has widespread support within the aviation and tourism industry. This analysis from Edinburgh Airport only strengthens that argument.
"Devolving APD to Scotland as soon as possible will help to unlock the country's full economic potential, bringing more international flights to and from Scotland as well as cutting costs for passengers.
"In terms of the timetable, only once the necessary legislation has been passed by the UK Parliament will the Scottish government be able to legislate for a replacement Scottish tax.
"We have confirmed that we intend to reduce APD by 50% within the term of the next parliament with a view to eventual abolition of the tax when public finances allow.
"No specific timetable has been given by the UK government for passing the legislation, but we continue to argue for this to happen as soon as possible."
'Financial accountability'
A UK government spokesman said: "This is a good example of the choices the further devolution of powers is giving the Scottish Parliament.
"The ability to change the levels of air passenger duty will lie entirely with the Scottish government while also being responsible for the loss or gain of revenue that results.
"That means financial accountability in decision-making in this area in Scotland.
"The UK government, like Edinburgh Airport, look forward to seeing their detailed plans in due course."
Environmental group WWF Scotland said the report completely failed to acknowledge that aviation was the fastest growing sector of carbon pollution.
Director Lang Banks said: "Despite all their special pleading, the aviation industry still enjoys significant exemption from taxes, including VAT and fuel duty.
"Even the Scottish government admits that halving APD would increase carbon emissions by as much as 60,000 tonnes a year.
"The reality is that, if we want to meet our climate targets, any growth in emissions from the aviation sector will have to be offset by deeper cuts elsewhere in Scotland's economy."