Renfrewshire Child Poverty Commission urges 'benefits rethink'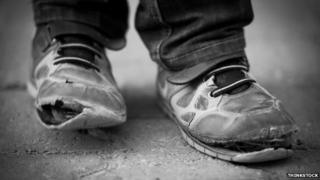 A group investigating child poverty in one Scottish local authority area has urged the UK government to rethink its benefits reforms.
Renfrewshire's Tackling Poverty Commission is the first of its kind in Scotland.
It set out 24 recommendations aimed at lifting families "off the breadline".
It came as Citizens Advice Scotland repeated its call for changes to disability benefits to be postponed.
Renfrewshire includes pockets of the most deprived zones in Scotland - with one in five children living in poverty.
The commission, set up by the council, is the first to look specifically at child poverty at a local level.
Its recommendations included:
Stronger focus on closing the attainment gap between pupils from high and low income families
Ensure nurseries offer more flexible childcare
Halve the number of workers paid below the Living Wage of £7.85
Target more resources to improve the health of babies who live in poverty
A new approach to neighbourhood regeneration
Reduce of the cost of the school day
Deprivation levels to be linked explicitly to the way Scottish education resources are allocated
The commission also urged a "rethink of benefit sanctions" and suggested a new "work incentive approach" be trialled in Renfrewshire.
It heard evidence that sanctions which can cut the money paid to claimants who fail to comply with benefit regulations mean "the welfare system no longer provides a safety net for people and could actually be pushing them into crisis".
---
Case study: Tackling Poverty Commission
"You can't be assertive because they've got your money and you need it to live on," is what one woman told the commission.
She said she lost her benefit payment - £120 a fortnight - for six weeks after arriving minutes late for a Jobcentre appointment.
The Paisley woman in her 40s, who is now in work, told the panel she would rather go hungry than sign back on for Jobseeker's Allowance (JSA).
She said: "When you go to the Jobcentre, they make you feel like they're giving money out of their own pocket. And if you've not looked enough for jobs that week, or if you're late, they tell you 'we can stop your money'.
"They spoke about me as if I wasn't there, saying 'has she been late before?' and said it had to go to a decision-maker.
"Even though its £120 a fortnight, they've got control over your life.
"I went through domestic violence and it's the exact same feeling you get.
"You leave there feeling rotten."
---
Councillor Mike Holmes, chair of the commission, said: "This fight to break the poverty cycle is everyone's responsibility.
"We gathered a significant amount of evidence. And we know that while there are still areas in Renfrewshire facing high deprivation levels, the face of poverty is changing with more households living in poverty now working than not.
"Benefit cuts will take £58m a year away from Renfrewshire, with Paisley North West set to be one of the hardest hit areas in Scotland, and Paisley Job Centre has the third highest number of benefit sanctions in Scotland."
He added: "Research makes a clear link between sanctions and foodbanks, so when you reach the point that children go hungry because a so-called work incentive removes their parent's only income - something has gone very wrong.
"That's why we're asking the UK government to produce and trial a new approach to benefit sanctions and work incentives in Renfrewshire."
Citizens Advice Scotland (CAS) has also urged the UK government to seek a fresh approach.
It said changes to the way disabled claimants are paid should be delayed until control over them is devolved to Scotland in 2018.
Personal Independence Payments (PIP) were introduced in June 2013 to replace Disability Living Allowance (DLA).
But the process will not have been completed across Scotland until October 2017 - a year before they are due to be devolved to the Scottish government under recommendations from the Smith Commission on additional powers for Holyrood.
The Department of Work and Pensions has argued that PIP allows claimants to receive a face-to-face assessment and regular reviews to ensure support is directed according to need.
It has also said its figures showed that 22% of people were getting the highest level of support under PIP, compared to 16% under the outgoing DLA system.
And it has said that to "halt this progress now would be to disadvantage disabled people across Scotland".
But CAS said its research in the report Voices from the Frontline showed many claimants have found the changes so far extremely problematic, with delays and uncertainty leaving them without income for long periods and making their health conditions worse.
Policy Manager Keith Dryburgh said: "The figures are quite startling. The Scottish CAB service saw a 78% increase in the number of new PIP issues between July and September 2014, when compared with the same period in 2013."
He added: "We now know that powers over disability benefits are going to be devolved to Scotland in 2018, and it is highly likely that the system will then be changed again.
"It seems to us both uncaring and unnecessary to put thousands of vulnerable people through the distress and uncertainty of two benefit upheavals in just a few years."
'Tiny minority'
Since April 2000, more than six million people have had benefits payments stopped, usually for failing to keep appointments, or demonstrating that they are otherwise not available for work.
The rules were tightened in October 2012, following the Welfare Reform Act.
Payments can be stopped for four weeks, or as much as three years, depending on how many times the rules are broken.
The sanctions also affect people claiming Employment Support Allowance (ESA).
A spokesperson for the Department of Work and Pensions (DWP) said: "Sanctions are only used as a last resort for the tiny minority who refuse to take up the support which is on offer."