Celtic Renewables secures further investment for biofuel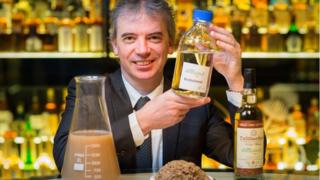 The Scottish company behind a new biofuel made from Scotch whisky by-products has secured further backing from investors.
Edinburgh-based Celtic Renewables has received £250,000 from the Scottish Investment Bank, while an existing private investor has bought a £250,000 equity stake.
The latest investments mean the firm is now valued at £10m.
Last month Celtic unveiled the first sample of its biofuel, biobutanol.
It claims it could provide an alternative to car and aviation fuel, as well as other technologies.
The biofuel is produced from draff - kernels of barley which are soaked in water to facilitate the fermentation process in whisky production - and pot ale, the yeasty liquid that is left over following distillation.
The by-products were provided by Perthshire distillery Tullibardine, which has worked in partnership with Celtic since 2012.
Celtic spent the last year developing its process as part of a £1m UK government programme.
It hopes to build its first demonstration facility at Grangemouth petrochemical plant by 2018.
Celtic is a spin-out company from the Biofuel Research Centre at Edinburgh Napier University.
It was founded by Prof Martin Tangney, the centre's director.
Prof Tangney said the new funding took the company "to a new level".