Revenue up for Glasgow-based smart meter firm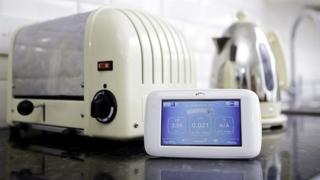 An energy metering firm based in Glasgow is planning to grasp a large share of the potential market for more than 50 million smart meters.
Plans for continued growth were set out as Smart Metering Systems reported revenue during 2014 up 52% to £42m.
Profit before tax was up £7.5m to £11m.
Part of that growth was through buying an electricity meter company, Utility Partnership Ltd (UPL) in April last year. Without that, revenue would have risen 25%.
The acquisition gave SMS a dual-fuel offer for the industrial and commercial customers who have formed the major part of its client base.
The technology allows for remote reading and half-hourly consumption data, to help businesses manage their energy use efficiently.
Founded in 1995, SMS has 22,000 contracts with the industrial and commercial sector, with the number of meters up last year from 16,000 to 41,000.
'Milestone year'
Each has a lifespan of 25 years, with inflation-linked earnings for SMS through that period.
The company's total portfolio, including domestic customers, reached 619,000 meters, the vast majority of them gas meters.
With smart metering due to see a major lift ahead of a 2020 government-set deadline, the company is targeting a share of that growth.
Many of the UK's estimated 1.6 million industrial and commercial gas meters are to be exchanged with smart metering by 2020, with the added potential of a domestic market roll-out of 22 million domestic gas meters.
In the electricity market, this is estimated to be 2.1 million company meters and 27 million domestic meters.
SMS chief executive Alan Foy said: "2014 has been a milestone year for SMS with the establishment of our electricity business.
"Everything we had envisaged for the UPL acquisition has come to fruition in less than a year."
A rival in the industrial sector for gas metering is Energy Assets Group, based in Livingston, West Lothian.
In the year to March last year, it saw sales rise 34% to £24m with pre-tax profits up 72% to £6.7m.