Oil and Gas Authority to have 'power to take away drilling licences'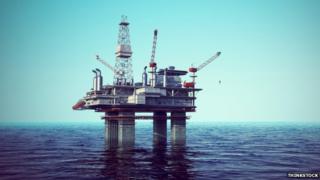 The new offshore energy regulator is to be given powers to fine companies and take away drilling licences, the UK Treasury has announced.
The Oil and Gas Authority, based in Aberdeen, is to have a right to attend corporate meetings and to see sensitive company data.
The UK Treasury has also announced detail of a new investment allowance, which will apply from April.
The new authority is part of reforms to policy on Britain's offshore sector.
Renewed exploration
In the Budget this week, UK Chancellor George Osborne announced a series of tax cuts for the North Sea industry which could see them paying £1.3bn less over five years.
The Supplementary Charge and Petroleum Revenue Tax are both being cut, and £20m of government funding is going towards seismic surveying of the seabed, in a bid to spark renewed exploration.
The moves were recommended by Sir Ian Wood, a major figure in the industry who is now retired from Wood Group, in a report for the government about maximising the economic recovery of remaining oil and gas reserves.
Along with tax reform, he said the new regulator should be set up, with powers to intervene where companies are reluctant to invest and keep extracting what remains from older fields.
The Treasury announcement is in line with what the Wood Report recommended.
It will allow fines of up to £1m, if companies don't comply with the regulator's requirements.
Investment plans
The power to revoke drilling and production licences is seen as a means of ensuring that no company can leave reserves untapped when another company could take them on.
The right to attend company meetings and see commercially sensitive data is to get round the secrecy which has long been widespread within the industry about reserves and investment plans.
The Wood Report said that companies should be required to co-operate on the use of pipelines and other infrastructure, and that regulation should look at clusters of oil and gas fields which need to be treated as one economic unit, rather than regulating individual fields in isolation.
Effective regulator
The UK government's Energy and Climate Change Secretary Ed Davey said: "We have worked hard along with industry to establish this new regulator as part of the government's commitment to the North Sea and the hundreds of thousands of jobs it supports.
"We've moved quickly to get the OGA (Oil and Gas Authority) up and running to help the industry with the challenges it is facing, but it's also vital that we give it the powers it needs to be an effective regulator.
"It was important for us to work with industry to get that right - and I think what we have developed together will enable the OGA to be very effective."
Andy Samuel, chief executive of the new Oil and Gas Authority, said the industry faces "very real challenges" and a need for collaboration.
"It is important that the OGA has appropriate regulatory powers to support its work as a trusted facilitator. I'm pleased that industry has been involved in the process to inform the legislation which is being drafted and that our work to create an effective, independent regulator is on track.
"Equally important is the commitment of all parties to maximise economic recovery through collaborative commercial behaviours in the North Sea, to safely improve efficiency, deliver a competitive cost base and create an operating environment that attracts investment now and in the future."