Links with London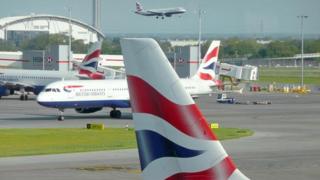 Having sold off Edinburgh, Glasgow and Aberdeen airports, the owners of Heathrow have now decided they want to woo Scotland.
The company seems to care much more about links between them than it did in olden times. That was less than three years ago, when they were part of one group, as a legacy of the state-owned British Airports Authority.
The offer now is of cheaper landing (and take-off!) slots at Heathrow for connecting flights with Scottish airports.
They said, over the weekend, that this would be only after Heathrow is allowed to build another runway. But today it turns out it wasn't conditional, after all. There's consultation soon, and implementation next January.
But this still has a lot to do with the campaign to be allowed to build a new runway.
With more capacity, so bountiful would the benefits be that Heathrow bosses are holding out the prospect of direct links with Inverness and an air route development fund to link to Dundee's struggling airstrip.
Be careful how you use those statistics, though. When the economic modellers offer 16,000 more Scottish jobs, that would be 35 years from now, by which time a lot of other factors may have affected the travel industry.
And when Heathrow says its offer is worth £14bn to the Scottish economy, that would be the cumulative value by 2078. Just to be clear, that's 63 years from now. We may all have space-age-style jet-packs by then...or living in a degraded environment of deserts and floods, having binged on climate-changing aviation fuel.
Hotly contested
The plan for an extra runway is very controversial around west London, because of noise, pollution and congestion. The UK government has asked a commission to report on what choice to make, and it's not by accident that it will be reporting after the Westminster election.
To lobby the Airports Commission, the hotly competing Heathrow and Gatwick managements have realised that one way to build a coalition of support for their rival plans is to win backing from other UK airports and cities, where they look to London as a key business centre and worldwide connecting hub.
With rail connections improved in recent years, England looks less to air connections than it did. So a lot of that lobbying is about air links with Scotland and Northern Ireland.
With Heathrow now working at capacity, the spokes into the rest of the UK and western Europe in smaller aircraft have been squeezed by more profitable large, long-haul. That way, it risks choking off a vital part of the business of feeding those long-haul planes.
In the past 10 years, the number of daily connections has fallen from 50 to 35, and Heathrow estimates that the failure of Little Red, an offshoot of Virgin Atlantic flying between Heathrow and both Edinburgh and Aberdeen, will see that fall to 26.
'Extremely concerned'
Leaving just British Airways linking Scotland to Heathrow, the lack of choice, lack of competition and consequent higher prices don't just affect outbound Scots.
The travel industry in Scotland depends on inbound visitors, some of whom find it too much hassle to change terminal, let alone make the journey to Stansted, Luton or a train out of Euston or King's Cross.
VisitScotland has been "extremely concerned" that Little Red has failed to make its Scotland-Heathrow Terminal 2 services stack up financially, which is why Virgin plans to ground them in September.
Bear in mind that, in this fast-consolidating industry, Little Red's flights have been operating under a leasing deal with Aer Lingus, the Irish airline which British Airways' owner is trying to take over. You can see a convoluted set of potentially conflicting interests.
Hub and spokes
Even after Little Red is back in the hangar, its landing slots at Heathrow remain reserved for links to Edinburgh and Aberdeen. The competition authorities made that a condition for allowing the takeover of bmi by British Airways, as that deal cut out BA's main competitor on these routes (bmi had already dropped its Glasgow route).
But if no-one can make the routes work in rivalry with BA, or even tries to, it's not clear if the landing slots will remain protected.
With Heathrow congested and expensive, many outbound Scots have found much more attractive options in flying to hubs at Schipol in the Netherlands, or Paris or Frankfurt.
And while London has failed to expand its capacity, long haul routes have been added that link Glasgow and Edinburgh with Dubai, Qatar, Abu Dhabi, Istanbul and several North American hubs.
That's good news for outbound travellers. But inbound travellers, particularly from other continents, tend to see a visit to Britain as something that starts in London. So getting them out of London, and easily, is the Scottish tourism industry's challenge.
Aircraft capacity and range has allowed for the big leap over Europe from the Middle East and Asia direct to the USA. Heathrow recently lost, to Dubai, its long-held position as the world's busiest international airport.
London doesn't have to be the world's air hub any longer. It's getting very late to be making a decision aimed at winning that title back.