French energy giant Total cleared to develop gas fields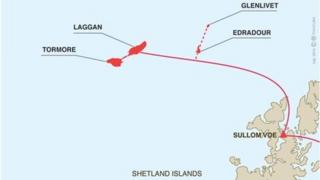 French oil and gas giant Total has been cleared to develop two gas fields north-west of Shetland.
The company said the UK Department of Energy and Climate Change (DECC) had approved field development plans for its Edradour/Glenlivet project.
The project is expected to add reserves equivalent to more than 65 million barrels of oil.
Total has an 80% share in the project, with partner Dong Energy owning 20%.
The Edradour gas field is located about 75km north-west of the Shetland Islands.
The development plan will see a discovery well converted into a production well and a 16km pipeline tied back to the Laggan-Tormore flowline, west of Shetland.
'Bright future'
UK Energy Minister Matt Hancock said: "This announcement shows that, following the Budget and with the rapid set up of the OGA (Oil and Gas Authority) following the Wood Review, the UK Continental Shelf has a bright future ahead of it.
"These new fields have around 10 years of production ahead of them, which means security for workers both offshore and employed through the associated supply chain."
Edradour is expected to start up in the fourth quarter of 2017 and will reach a plateau of 17,000 barrels of oil equivalent per day. The development cost is estimated at £340m.
The Glenlivet discovery is located 90km north-west of Shetland.
The reservoir will be developed with two wells and a 35km pipeline tied back to the Laggan-Tormore production flowline.
First gas is expected in the third quarter of 2018 and will reach a plateau of the equivalent of 21,000 barrels of oil per day at an estimated development cost of £650m.
Total said the project underlined the strategic importance of the West of Shetland as a core asset for Total.