Fall in revenue at national newspaper chain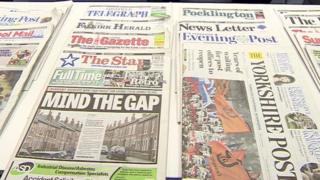 Johnston Press has reported a continued fall in revenue last year, with statutory pre-tax loss falling to £24m.
Revenue at the publisher of The Scotsman and Yorkshire Post, dropped by 7% to £269m.
However, the underlying figures put the company into the black when one-off costs are excluded, with pre-tax underlying profit of £30m.
The 2014 reported figure for the group, one of the UK's biggest newspaper chains, covered 53 weeks.
Difficult market
The Edinburgh-based company has local titles from the Stornoway Gazette and Fraserburgh Herald to the Londonderry Sentinel and Bognor Observer.
Thirteen of its titles are daily, 195 are paid-for weeklies, including Scotland on Sunday, and 40 are distributed for free, with 10 lifestyle magazines and 198 local websites.
Johnston Press has been going through a painful turnaround process, partly due to high debts and also because the newspaper market has been exceptionally difficult.
It had to re-finance last year, to reduce the very large debts taken on to expand before the financial crash, and to avoid the risk of breaking its previous debt conditions.
Revenue from advertising fell 5% in 2014 to £166m. Print advertising declined 9% to £137m while digital revenues were up 20% to £29m.
Within that, recruitment advertising reached a 'tipping point' at which online grew sufficiently to outstrip the decline in print. It rose 3%, as print ads fell £300,000 and digital ads rose £1m.
The company found property advertising revenue was much tougher, down by 8% to £22m. Digital advertising for homes was up by half, but to only £1.3m.
The biggest ad category, display, was down 7% to £68m.
The value of newspaper sales was down 5% to £78m.
Meanwhile, total readers and viewers were up from 24.5 million people to 27.3 million, but with 1.5m fewer print readers.
The digital audience was up 36% from 12.3 million unique users per month on average to 16.7 million.
Johnston Press booked £54m in exceptional items. Of that, £25m was in reducing the valuation of its print titles and property, with a £21m bill for restructuring, and the cost of raising new finance was £9m.
That re-financing helped bring net debt down to £184m at the start of this year, down from £302m a year before.
It was on conditions for the new finance that no dividend is paid to shareholders. But it means that the accounts have removed previous doubt about the company's future, when it seemed that it might not have been able to meet the conditions of its previous debts.
Staff cuts
Future plans include continued reduction in costs, including a fall in the number of properties where Johnston Press operates, from 188 in 2012 to fewer than 100 "eventually". Last year, it moved out of its prestigious headquarters for The Scotsman.
Ashley Highfield, chief executive of Johnston Press, said the shape of the company is changing: "Following the refinancing we are seeing the business transform into a modern multimedia organisation.
"We are excited about the future for the business and confident of delivering on our strategic objectives of growing an engaged audience base and returning our business to top line growth."
So far this year, the decline in revenues has continued, at 4%. This year's priorities include extension of the use of a new publishing system for journalists, while making more use of readers' contributions on Johnston Press's websites. It is claimed more time will be freed up for investigative journalism, while continuing cuts in cost.
The cost of shedding staff last year was more than £7m, and the staff payroll reduced from £107m to £100m. The cost of a new bonus scheme to retain top management was more than £4m.