Obstacles to small-medium business success 'have fallen away'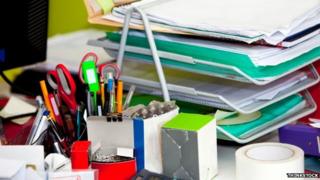 Obstacles to the success of small and medium-sized enterprises (SMEs) in Scotland have fallen away significantly, according to a survey for the Scottish government.
It showed that access to finance was a problem for 41% of those surveyed in 2012 - but that fell to 27% last year.
Only 4% said it was the main obstacle to success.
The biggest obstacles were the economy, red tape, competition in the marketplace, business taxes and VAT.
But on those counts where there were comparisons between 2012 and 2014, the survey found fewer seeing these as obstacles. Only the availability of premises rose as a concern, but only slightly.
The SME Access to Finance Report was compiled by the chief economic adviser to the Scottish government, Gary Gillespie. It surveyed 835 small and medium-scale enterprises in Scotland, ranging in size from fewer than 5 employees up to 250.
Dominant banks
The report into credit conditions for smaller firms began in 2009, with the credit crunch. It was carried out in 2010, and found broadly the same level of demand for credit in the 2012 survey.
The latest survey found, once again, that two banks dominate the market. From that sample, 42% were customers of the Royal Bank of Scotland, 30% with Lloyds Banking Group including Bank of Scotland, 13% were with Clydesdale Bank and 6% with Santander.
A recent report by the competition regulator raised concerns that there is too much concentration in the Scottish SME banking market.
But the chief economist's report found 63% said they had a good or very good relationship with their bank, up from 55% in 2012.
Of those seeking external finance, half approached only one bank.
The survey found that 31% of Scottish SMEs applied for finance over the previous three years, down from 45% in the previous survey.
That points to a changed appetite for finance, as companies pay off debt and try to avoid new loans.
Capital projects
Those applying for external finance were more likely to want it for big capital projects rather than day-to-day working capital and cash flow.
In the 12 months before being surveyed, only 18% had applied for external finance.
Of those not applying for bank finance, 28% said they did not want the additional risk, 24% said they thought they would be rejected, and 14% said it would be too expensive.
Of those who applied, 80% said they secured all they had sought, up from 63% in 2012.
Asked if they had the capacity to apply for finance, 48% said in 2010 that they had little or very little, but that had dropped to 23% of those surveyed.
Commenting on the report, Deputy First Minister John Swinney said he was pleased that access to finance has been improving.
"However, there are clearly still some underlying issues around access to finance, with lower levels of demand and some firms discouraged from borrowing, which needs to be addressed," he said.
"This is why we announced in the Programme for Government the need to create a Scottish Business Development Bank.
"We are looking at the best way to take forward the Scottish Business Development Bank given the restrictions placed on us under the current constitutional arrangements and will come forward with more detail in the coming weeks."
Colin Borland, of the Federation of Small Businesses in Scotland, highlighted some evidence suggesting the problems of accessing finance are more pronounced among smaller firms than medium-sized ones.
'Levels of service'
He said: "Two banking behemoths continue to dominate the Scottish business finance market. Until we see more players fighting for the smallest firms' custom - we're unlikely to see the innovations and levels of service which our economy needs"
He added: "While public sector interventions are to be welcomed, a large number are focussed on a small group of high-growth businesses. We need to see better co-ordination in this area and the development of an approach which helps all sorts of Scottish enterprises."
The interventions being criticised by the FSB are from Scottish Enterprise, which focusses its efforts on supporting around 2000 companies with the highest growth potential.
The board of Scottish Enterprise has had three new appointments announced by Mr Swinney on Wednesday: Professor Anne Glover, former chief scientific adviser in Scotland and to the president of the European Commission: Alison McGregor, the head of HSBC in Scotland: and Gavin Nicol, operations director at Weir Group in Glasgow.