Renewable electricity 'close to 50% target'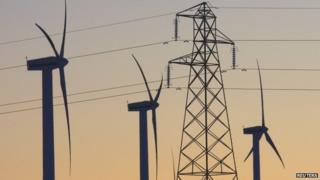 Nearly half of Scotland's energy consumption came from renewable sources last year, according to official data.
Figures released by the Department of Energy and Climate Change (DECC) showed 49.6% of gross electricity consumption came from renewable sources last year.
The figure was up from a total of 44.4% in 2013.
The Scottish government said Scotland had almost met its 50% renewable electricity target, a year ahead of schedule.
Renewable electricity generation rose last year by 11.7% and is now estimated at 18,959 gigawatt-hours (GWh).
This is roughly enough electricity to power the equivalent of an additional 430,000 Scottish households for a year, compared with 2013.
The total included an increase in hydro, bioenergy and wind generation, with hydro generation at a record high level - up 26% from 2013 to 5,503 GWh.
There was another record year for wind output, which was up 4% from 2013 to 11,592 GWh.
'Multiple benefits'
Energy minister Fergus Ewing said renewable electricity generation continued to go "from strength to strength" in Scotland.
He added: "Harnessing Scotland's vast energy wealth has multiple benefits - reducing our carbon emissions, creating jobs and investment, and helping keep the lights on across these islands.
"2014 was also another record-breaking year for wind output, up 4%, and the Scottish government remains committed to continuing this upward trend."
A DECC spokesman said: "Scotland's renewables sector is a genuine success story which is fantastic to see.
"As a United Kingdom, we're building on this together through reforms that are driving up to £100bn of capital investment, including more onshore and offshore wind projects across Scotland."
Dr Sam Gardner, head of policy at WWF Scotland, said: "It's great to see Scotland's renewable electricity sector has almost met its 50% target a year ahead of schedule.
"Green electricity is reaping rewards for Scotland, slashing carbon emissions, increasing energy security and delivering jobs and investment.
He added: "However, to ensure the continued growth of this industry, attract supply chain investment and continue to bring down costs, the next UK government must provide a stable and sustained funding pipeline for offshore wind and clear volume signals in the 2020s."