Scotland 'sees rise' in high-growth company numbers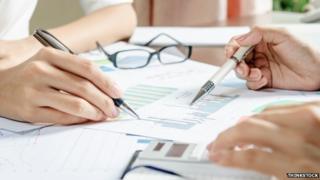 Scotland saw the biggest rise in the number of high-growth companies of any area of the UK last year, according to a new report.
The Barclays and BGF Entrepreneurs Index said there was a 5.7% increase in high-growth businesses settling in Scotland in the year to March 2014.
More Scotland-based entrepreneurs also realised wealth from their businesses.
The number of deals resulting in at least £200,000 of individual wealth creation increased by 5.6%.
There were 75 such deals in the 12 months to December.
The index tracks entrepreneurial activity across the UK, using data to measure start-ups, growth and business exits.
'Growing hub'
The research showed that there was a 4% rise in the number of enterprises in Scotland in 2014, compared with the previous year, making the country home to 157,000 enterprises.
Most parts across the UK reported growth in this area, with London leading the way with 401,000 enterprises.
Calum Brewster, from Barclays, said: "Since we started our entrepreneurs index series in 2012, Scotland has become a growing hub for entrepreneurial activity, signifying that for many Scottish individuals entrepreneurship is now becoming an aspirational career choice.
He added: "Scotland remains a key location to do business for many reasons, but one that stands out is that, by comparison, the country is less expensive.
"As a result of that, it is increasingly common for a company to have a satellite London office, with their main headquarters north of the border.
"It's cost-effective and a model that works well."