Wizz Air plans new Glasgow to Budapest route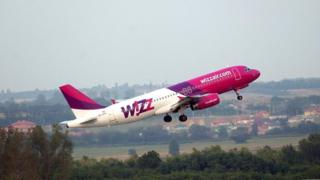 Budget airline Wizz Air has announced plans to introduce direct flights between Glasgow and the Hungarian capital of Budapest for the first time.
The airline will operate a year-round, twice-weekly service from 13 June.
Wizz Air said it decided to add direct flights between the two cities following a poll carried out in the Hungarian media.
It added that "the majority of participants" placed Glasgow at the top of their wish list of destinations.
Wizz Air also announced plans to add flights to the Polish city of Lublin.
A twice-weekly service will start on 16 September.
Paul White, business development manager at Glasgow Airport, said: "This is fantastic news for the airport.
"We are continually working to expand our route network and not only will Wizz Air's new routes further strengthen our connectivity with Europe's major cities, it has huge potential to generate significant in-bound tourism for Glasgow."
Wizz Air first moved to Glasgow Airport two years ago. The addition of Budapest brings the total number of destinations it serves from Glasgow to six.
They include services to the Polish cities of Warsaw, Poznan, Katowice and Gdansk.