Green light for £100m data centre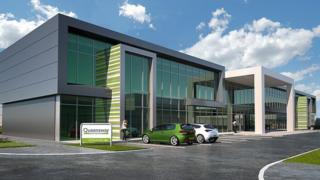 The first phase of plans to build a new £100m data centre campus in Fife have been given the green light.
Queensway Park Data Centres Ltd wants to build two cloud hosting facilities at Queensway Park in Glenrothes.
The first of these will cover an area of more than 90,000 sq ft and is hoped to be ready for occupation towards the end of 2016.
Once completed, Queensway Park will be the largest co-location data centre campus in Scotland.
The company said its development would represent the next generation in data centre technology, which it said would help Scotland compete globally as more of the data people use moves to the cloud.
The facility will draw power from the adjacent RWE Innogy biomass plant, which is said to be the largest built to date in the UK, producing up to 65MW of electricity.
Energy efficient
It will also seek to employ the most energy efficient solutions available, and help organisations address the need to reduce their carbon emissions, the developers said.
A pre-application notice was lodged with the Fife Council in January of last year. It has now been granted detailed consent.
Robin Presswood, the council's head of economy, planning and employability services, said: "This as an important piece of business infrastructure that Fife can offer companies looking for improved business performance through cloud computing and to companies using Big Data to identify new business trends and opportunities, particularly in financial services and the energy industries."
Queensway Park Data Centres director Alan O'Connor said: "Interest in the Fife facility has been strong and although we are building towards shared or co-location facilities, we are not ruling out the possibility of a single user requirement for either phase."
There are currently only seven co-location facilities in Scotland in comparison with about 214 throughout the rest of the UK.