Tesco Bank boosts customer numbers and profits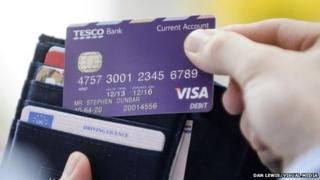 Tesco Bank has grown its customer base to 7.4 million over the past financial year and seen pre-tax profits rise by 10% to £168m.
However, it has set aside a further £27m, on top of £63m last year, to pay compensation to customers who were mis-sold payment protection insurance.
A division of Tesco Group, the Edinburgh-based bank has expanded into mortgages and current accounts, at a cost that subdued the profit figures.
Lending rose by nearly 12% to £7.7bn.
Customer deposits were up nearly 14% to £6.9bn.
The total number of customers rose by 5% and income was up 3.2% to £769m, helped by the strong lending figures.
Among innovations in the past year, Tesco Bank introduced a Foundation credit card, for those who find it hard to get credit cards from elsewhere or who are first-time card holders.
It also introduced a 90% loan-to-value mortgage, loans in the £1,000 to £3,000 range, and a mobile banking app.