Scotmid reports 'solid' annual results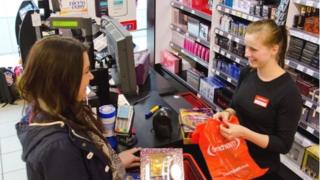 Scottish retailer Scotmid has reported a rise in turnover and operating profit, helped by an improved performance from its Semichem business.
The Edinburgh-based co-operative society saw operating profit climb by £1m to £5.5m for the year to the end of January. Turnover was up £5m to £436m.
Scotmid described them as "a solid set of figures".
However, it warned that Scottish consumer confidence, especially in food retail, remained low.
Scotmid said its Semichem business "made progress", despite the Scottish non-food market declining by 2% over the course of the year.
The society last year closed several loss-making Semichem stores after reviewing its business strategy.
It said on Thursday its review would continue as property leases came up for renewal.
Scotmid's results were also helped by a "solid business performance" from its funeral division, despite a difficult first half of the year.
Scotmid operates 350 retail outlets across Scotland, Northern Ireland and the north of England.
Chief executive John Brodie said: "Throughout the year we have continued to take tough decisions and continued our programme of differentiation to help ensure sustainable profitability and growth going forward.
"The retail landscape continues to change rapidly as highlighted by announcements from all the major multiples to change strategies including decisions on store closures and future direction.
"The past 12 months has seen us progress our vision for 'food' which has helped differentiate us from the competition with a real focus on concept bakery, local products and the introduction of a number of key value lines.
"Tough decisions taken in 2013, and which we continue to take, have helped Semichem make good progress over the past year despite the Scottish non-food market declining by 2% over the period.
"The action taken by the society, especially with landlord negotiations on property lease renewals, has improved our Semichem business."