Subsea firm Rovop secures £10m from Business Growth Fund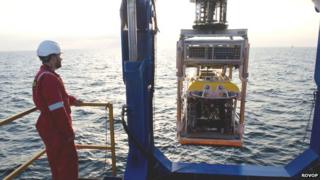 An Aberdeenshire-based subsea vehicle specialist is set to expand after securing £10m in funding from the Business Growth Fund (BGF).
Rovop will use the money to develop its fleet of remotely operated vehicles (ROVs) and expand internationally.
The announcement came as the company officially opened its new £4.2m headquarters in Westhill.
The new 18,500 sq ft site will allow its fleet of ROVs to be run from one integrated hub.
ROVs are tethered, unmanned underwater vehicles used by the offshore oil and gas and renewables industries to carry out a wide range of tasks.
They include supporting drilling operations and inspection, repair and maintenance of subsea pipelines, platforms and other infrastructure.
The investment from BGF will allow the company to continue to grow its fleet of ROVs to about 50 over the next three years.
'Significant opportunity'
Mike Sibson, who will join the Rovop board as investor director for BGF, said: "BGF's investment will support growth of the fleet both from the UK operation, but also in the Americas where we see significant opportunity."
Earlier this month, the company opened its western hemisphere headquarters in Houston, Texas.
BGF was established in 2011 to give help to growing smaller and medium-sized businesses in the UK.
Backed by banking groups Barclays, HSBC, Lloyds, RBS and Standard Chartered, BGF has up to £2.5bn with which to make long-term equity investments.